Friends of Hastings Cemetery
Alfred Thomas Saville 1839- 1915 BI L07
Alfred was born in Birmingham and studied at Airedale College and at Highgate. He was ordained and sent by the London Missionary Society (LMS) to Huahine in the South Pacific.
He married Elizabeth Anne Marston in 1865. Known as Lillie, she kept a journal describing the journey to Huahine which was donated to the LMS by her granddaughter Margaret Thornton in1961.
Alfred's diaries, 1866-88, and personal papers are in the The London University School of Oriental & African Studies Library (SOAaS).
Alfred and Lizzie sailed in the mission ship the John Williams II, arriving at Adelaide, Australia, on 4th May and proceeding to Sydney, then to Aneiteum, where the ship ran aground and had to return to Sydney for repairs.
Saville and other passengers remained at Aneiteum; visited the Loyalty Islands and arrived at Niue, 1866; left Niue for Samoa and proceeded to Huahine, 1867. Following failure of his health, he left Tahiti for England, 1874 and retired from the LMS.
He was the pastorate of the Congregational chapel at Rye, Sussex, 1878 and the 1881 Census shows him living at 84 High Street, Rye with his wife and 4 sons and a daughter, aged between 4 and 10 years. This didn't include their daughter Lillie who would have been 12 and may have been away that night, possibly she was at boarding school.
Mrs Saville died at Rye on 13th May 1903.
Saville became the first pastor of the Congregational chapel at Hailsham, 1905; retired from the ministry due to ill health and died at St Leonards, 1915. His son, William James Viritahitemauvai Saville (1873-1948), was also a LMS missionary to the South Seas, and his daughter, Lillie Emma Valineetua Saville (1869-1911), was an LMS medical missionary to China.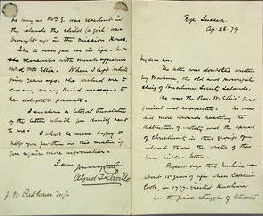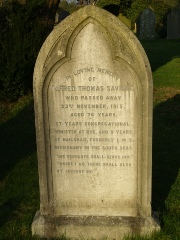 In Loving Memory
of
Alfred Thomas Saville
Who passed away
23rd November, 1915
Aged 76 Years
37 Years Congregational Minister at Rye, and 9 Years
at Hailsham, formerly L.M.S. Missionary in the South Seas.
"His servants shall serve him".
"Where I am, there shall also
My servant be"