Friends of Hastings Cemetery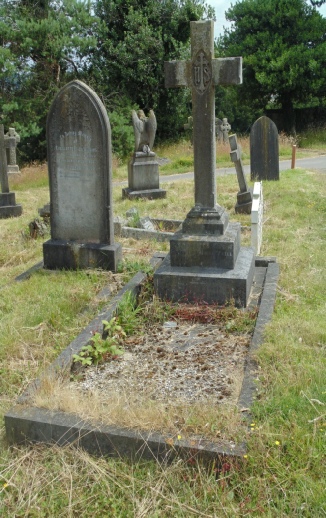 EP A12
Edward John Leppingwell Sewell
Edward Leppingwell Sewell
Emily Caroline Sewell
Edward died at his home The Red House, Burwash, on 6th December 1921 aged 65, and Emily died on 13th December 1932 aged 72.
also to the memory of
Edward John
Only son of
Edward Leppingwell
and Emily Caroliine Sewell
2nd Lt RCA who died of wounds recived at Neuve Chapelle April 10th 1918.
Interred at Lapugnoy Military Cemetery
Second Lieutenant Edward John Leppingwell Sewell was serving with the 217th Siege Battery, Royal Garrison Artillery, when he died of wounds received at Neuve Chapelle on 10th April 1918 at the age of 33.
He was buried in Lapugnoy Military Cemetery which is 6kms west of Bethune. From the date he was probably a casualty of the German Spring Offensive of that year.
Edward John Leppingwell Sewell also left a widow Eveline Alice Sewell of 'Derwent' Arundel Gardens, Winchmore Hill, London whom he had married in 1911.
Edward senior was born in Hampshire c1857 and Caroline in Birmingham c1861.By 1891 the family was living in Enfield with their two children Edward (b.15th June 1884) and Ada (b. 1888). Edward was a manufacturer of brass and iron bedsteads, and was one of the principal shareholders of Hoskins and Sewell Ltd, founded in Birmingham in 1897. The family lived in comfort with a cook, maid and governess. In 1899 Edward junior went to Haileybury School in Hertfordshire, where he stayed until 1902. Haileybury's primary purpose was to train boys for the colonial service, particularly in India but Edward seems to have followed his father into the family business.
In January 1916 conscription was introduced in Great Britain. The war was not going well and the initial patriotic enthusiasm for enlistment had probably disappeared as people became more aware of the grim realities of life at the front, so the government were forced to bring in this unpopular measure to ensure the necessary supply of men for the Army.
Initially only applying to single men, conscription for married men was brought in June 1916. However Military Tribunals were set up to adjudicate on appeals against conscription on the grounds of performing civilian work of national importance, domestic hardship, health, and conscientious objection The Birmingham Daily Post reported in November 1916 one such tribunal in London where one Edward John Leppingwell Sewell, married and passed fit for general service 'applied for exemption on the grounds that he was engaged in government work, it was stated that he was the only man in the firm who could control the bedstead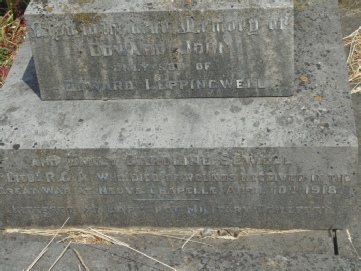 making department.' His solicitor argued that the firm had a government contract and Edward Sewell was more useful to his country in this way.
Rejecting his appeal, the Military Representative said he had already been given three months to make alternative arrangements and nothing had been done.' (In fact the firm made tubes for aircraft production and other items for the war effort as well as both metal and wooden bedsteads.)
So to war he went, initially as a private in the London Regiment then commissioned in to the Royal Garrison Artillery.