Friends of Hastings Cemetery
In the 1911 census the family are living at 11 Cranmer Grove, Nottingham and are shown as Kate Elizabeth Shrimpton 45 years old, a widow, she is living with her children Lennox Dutton 17 yrs and Edith Janet 9 yrs
Hastings and St Leonards Observer - Saturday 13 June 1908
MR. A. J. SHRIMPTON. The death, of Mr. Alexander James Shrimpton took place Wednesday morning. at 52 South water-road, St. Leonards. The deceased's family had been constant visitors to the town, and he also had two sisters in residence here.
The funeral took place yesterday (Friday) at the Borough Cemetery. There were numerous wreaths.
The coffin was of polished Canadian elm. with brass furniture. The engraved plate on the mount bore the inscription "Alexander James Shrimpton. died June 10th. aged 44 years".
The whole of the funeral arrangements were most satisfactorily carried out by Mr. Arthur C. Towner, of Norman Road. St. Leonards.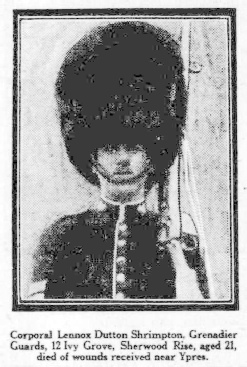 Private Lennox Dutton Shrimpton enlisted on 27th June 1911 at Nottingham and served with 2nd Battalion Grenadier Guards.
He landed in France on 22nd August 1914 and died of wounds received at Ypres on 5th November 1914 and is buried in Perth Cemetery (China Wall), West-Vlaanderen, Belgium
At the time of his death he was living at 12 Ivy Grove, Sherwood Rise, Nottingham.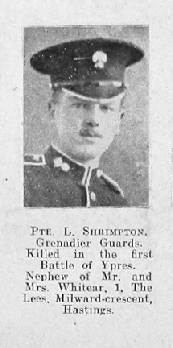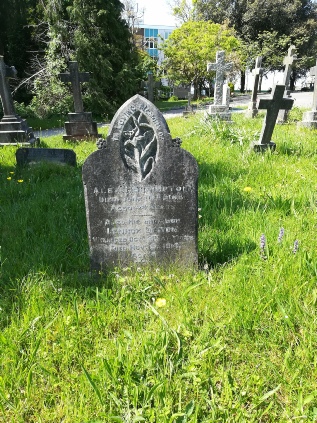 KI F04
Alex J. Shrimpton
Died June 10th 1908
Aged 44 Years
Also his Only Son
Lennox Dutton
Wounded Oct. 31st at Ypres
Died Nov. 5th 1914
Age 21
Alexander was born in 1865 in Alresford, Hampshire. He married, in 1892 Kate Elizabeth Kaines, who was born in 1866 at Twford, Hampshire,The marriage was recorded in the Winchester Registration District. He was a draper. They went on to have 3 children, one of whom died in infancy. Lennox was born in 1893 in Nottingham, as was his sister, Edith Janet born 1902.