Friends of Hastings Cemetery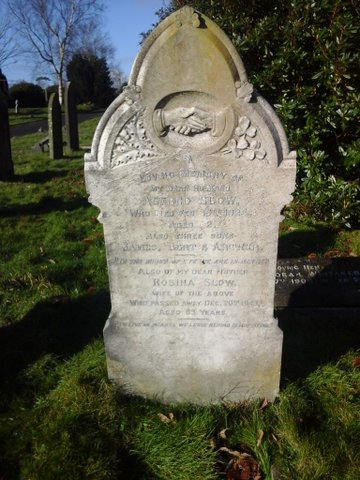 In
Loving Memory of
My Dear Husband
Who died Feb 15th 1924
Aged 62
Also three sons
James, Bert & Arthur
In the midst of life we are in death
Also of my dear Mother
Rosina Slow
Wife of the above
Who passed away Dec. 20th 1943
Aged 83 Years
'To live in hearts we leave behind is not to die'
Alfred and Rosina married in 1881. Alfed was a bricklayer. In 1891 they were living at 3 Willow Cottages, and had three sons, James, aged 7, William aged 4 (both listed as scholars) and Thomas, who was 2. William died in in 1957, aged 71. Two children who died, aged O, Elizabeth Francis in 1882 and Richard George in 1896 were probably also their children.
Arthur was born in 1891. Thomas Albert is presumably the Bert referred to on the gravestone, but so far we have no more information on him unless the Observer report below
Slow, James Alfred
Rank:Gunner
Service No:83195
Date of Death:05/11/1918
Age:35
Regiment/Service:Royal Garrison Artillery 1st/1st London Heavy Bty. Grave Reference: B. 6. Cemetery:SEBOURG BRITISH CEMETERY
Additional Information: Son of Mrs. R. Slow, of 53, Greville Rd., Ore, Hastings, Sussex.
Slow, Arthur
Rank:Private
Service No:164484
Date of Death:18/11/1916
Age:23
Regiment/Service:Canadian Infantry 75th Bn.
Panel Reference: Memorial:VIMY MEMORIAL
Additional Information: Son of Mr. A. and Mrs. R. Slow, of 53, Greville Rd., Hastings, England.
Alfred's death was recorded in the Observer:
Council Employe's [sic] sudden death - Hastings & St Leonards Observer, 16 February 1924
An employe[sic] of the Corporation, Alfred Slow, was taken ill at Tackleway yesterday (Friday) afternoon about 1.30 and collapsed. A number of people went to his assistance, but in spite of artificial respiration, he did not revive. The Police ambulance was sent for, and the man conveyed to the Royal East Sussex Hospital. On arrival at the institution, however, it was found that Mr. Slow was dead. He resided at 53 Greville-road, Ore. The facts have been reported to the Borough Coroner, who will decide if it is necessary to hold an inquest.
A slight mystery occurs in another HSLO report of the same year, note the address is the same -
Cyclist in Memorial Accident - Hastings & St Leonards Observer, Saturday 16th August 1924
P. C. Hoadley was driving his Enfield motor-cycle combination at the Memorial on Saturday about mid-day, when a cyclist, Alfred Thomas Slow, 53, Greville-road, Ore, attempted to pass between him and a stationary motor-ar [sic]. The cyclist was jammed between the two vehicles and thrown from his machine. He was taken to the Police Station where he received attention to slight injuries. The bicycle was badly damaged, both wheels being bent up.