Friends of Hastings Cemetery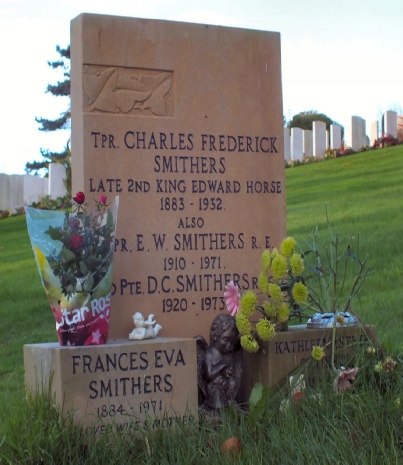 Trooper Charles Frederick
Smithers
Late 2nd King Edward Horse
1883 - 1932
Also
Sapper E. W. Smithers R. E.
1910 - 1971
? Pte. D.C. Smithers R. E.
1920 - 1973
Frances Eva
Smithers
1884 - 1971
Kathleen Esther
Smithers
1928-2008
Charles Frederick Smithers was born 9th July 1883 in Oxshott.
He married Frances Eva Thomas (born Seddlescomb, 1885) 26th June 1907 at Haywards Heath.
They had four sons and a daughter.
Their daughter, Irene Evelyn, died in Hastings, aged 19 months, of Cholera.(1916). The death certificate lists her father as Trooper 1209 2nd King Edward Horse
1911 Census
Charles and Frances, with sons Gilbert William and Ernest Wilfred at 43 Mill Green Rd, Haywards Heath.
Charles is an Engineer Labourer for London Brighton South East Railway

Trooper Charles Smithers' service records show a varied life. The medal roll card lists:

King Edward Horse 1209
Royal Engineers WR 163
MGC 112270
Liverpool Regiment 85732
Royal Engineers 323494

In November 1914 he enlisted for 4 years Special Reservists Horse. He went to France in May 1915 to August 1917 and was awarded 15 Star Victory, British medals.

In April 1919 he was discharged from the Royal Engineers 199th Quarrying Company. He had 20% disablement and was transferred to Section Z Army Reserve.
In 1920 their son Donald Cyril born in Hastings (who later married Kathleen.)
In April 1921 Charles signed for 90 days emergency service with the 5th Royal Sussex. He disclosed that he was a Blacksmith's Striker, and was previously with Royal Engineers WR 163-Acting Corp.

In July 1921 he was again discharged and re-enlisted in the Territorial Force .
By this time he was living at 115 Emmanuel Road, Hastings.


Hastings and St Leonards Observer - Saturday 29 October 1932
THE LATE MR. SMITHERS.- We regret to record the sudden death of Mr. C. F. Smithers. The funeral took place on Friday last week at the Borough Cemetery, the interment being in the Heroes' Corner. The coffin was draped with the Union Jack and was carried by four of his workmates from Broomgrove power station.

The funeral arrangements were left in the hands of Mr. E. T. Morris and Sons, to whom the widow and family give sincere thanks for all they did, also their grateful thanks to Mr. Bailey and those who earned out their last task of devotion and friendship in the pouring rain.