Friends
Of
Hastings
Cemetery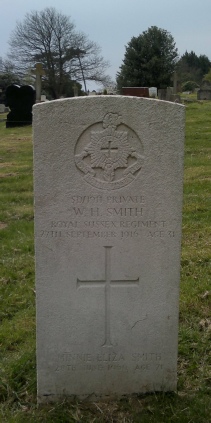 MA B29
William Hiram Smith
Minnie Eliza Smith - 28th June 1960
Smith, William Hiram
Rank:Private
Service No:SD/1911
Date of Death:27/09/1916
Age:31
Regiment/Service:Royal Sussex Regiment 12th Bn.


William was the husband of Minnie Eliza Smith, (who, unusually, is also remembered on this stone.) William was born about 1885 in Brede. In 1881 his parents William & Elizabeth were living in Northiam, shown as part of Rye.
In 1891 they lived in one of the Chitcombe Farm Cottages, Brede.
1901 Census - William with and siblings Ernest & Elizabeth at Knights Farm, Westfield. His father was an Agricultural Labourer, and his brother Ernest a Domestic coachman.


1911 Census - William a Boarder in the Freeman household at Kings Head Mill, Battle. He is a miller's carman
His parents were still at Knights Farm, Westfield in 1911 but all 5 children had left home by then. (Six were born, but one apparently died young)
William joined up in October 1914. He was a signaller and was wounded while repairing the telephone lines," probably during fighting on the Ancre [Hamel] on the 3rd of September 1916. He died of wounds at home on 27 Sep 1916. (See more here)
Hastings and St Leonards Observer - Saturday 02 September 1916
Private William A. Smith. (sic) The death has occurred at Netley of
Private W. A. Smith, Royal Sussex Regiment. He was wounded on September 3rd, and died on September 27th, the funeral taking place last Monday at Hastings. He was a son of Mr. Wm. Smith, of Brede, and leaves a widow, who resides at 409, Priory-road, Hastings. He would have been in the service two years next month, and had been at the Front for six months."
(The problem with the above is that the date of the paper is 2nd September, 1916, and rightly gives the date of death as 27th September 1916.
Another problem is that elsewhere a person of the same name and same Service number is recorded as Sergeant SD/1911. Awarded Victory and British medals )
Thanks to Sussex History Forum for much of this information.