Friends of Hastings Cemetery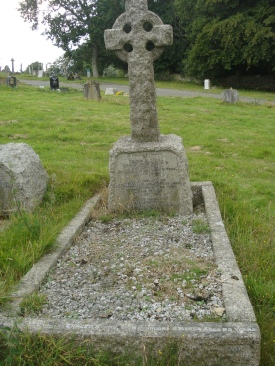 EQ
'In ever loving memory
Of
Ernest Blatspiel
the dearly loved husband of
Frances Stamp
who entered into rest 18th March 1928
aged 70 years.
Also of their only son
Lieutenant Douglas B Stamp
Ist East Yorkshire Regiment
who died for his country near Ypres
on 10th April 1916
aged 25.
In loving memory of the daughter of
Ernest Blatspiel and Frances Stamp
and mother of Captain ..Jones Stamp….'
The last part of the epitaph is not easily readable but presumably refers to Constance Isabella Jones, neé Stamp.
Douglas B. Stamp was a lieutenant with 1st East Yorks when he died of wounds (according to the Inns of Court OTC register) on 10th April 1916. He is buried in the Ferme-Olivier Cemetery in Belgium where his CWG stone bears the inscription 'I thank my God upon every remembrance of you.' He was born in Scotland in 1890, the son of Ernest and Frances Stamp.
His father, Ernest Blatspiel Stamp, was English, originally coming from Enfield, Essex where he was born in 1858. By 1890 he was a partner in the firm of F.H.Russ and Co., who were wholesale and retail manufacturing furriers. Ernest had always been in this trade having served a 7 year apprenticeship to his father 'a citizen and skinner of London' in the 1880's. F.H. Russ and Co. had premises in Buchanan St. Glasgow and New Bond St London.
Ernest married Frances (born Westham, Sussex 1860) in 1885. They had four children but only Douglas and his sister Constance Isabelle (born Sydenham 1887) survived. By 1911 the family, minus Douglas, were living in Sevenoaks, although the CWGC records also record Ernest's address as 4, The Green, St Leonards. When he died in 1928 at Fitzroy House, Fitzroy Square, London probate was granted to Frances and Constance both listed as widows, and he left £43,500. His main residence was still listed as 4, The Green, St Leonards.
Constance I. Stamp married Charles D. Jones, the son of Charles Henry Jones, the Registrar General of Shipping and Seamen, in the spring of 1916 in London. He was a lieutenant in the King's Own Yorkshire Light Infantry. He was killed on 28th October 1916 in France and Constance Isabella Jones (nee Stamp) of Sevenoaks is listed as his wife on CWGC. So presumably Capt. Jones Stamp was a posthumous baby and it may be why he changed his name if he was brought up by his mother and grandparents.
Recently an officer's sword bearing the initials DBS came up for auction. This had originally belonged to Douglas B. Stamp and was passed to his nephew (not son,as the website suggests) the Captain Jones Stamp referred to on the grave. To read more about this see: http://www.antique-swords.eu/Glubb-Pasha-Arab-Legion-British-Infantry-Officer.html Our research would suggest that some of the facts regarding names and relationships are incorrect, but it tells an interesting history of the sword and its second owner.