Friends of Hastings Cemetery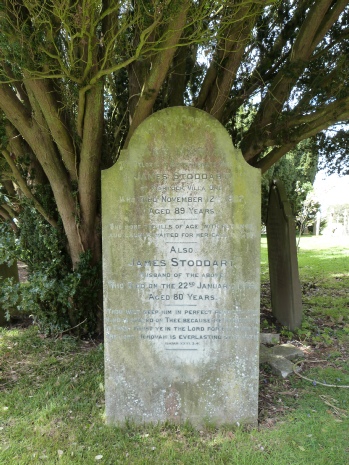 AQ E29
In memory of
Ann Maria
The beloved & affectionate wife
Of James Stoddart
Of Martock Villa, Ore
Who died November 12th 1882
Aged 89 years
'She bore the ills of age with patience
And calmly waited for her call to God'
Also
James Stoddart
Husband of the above
Who died on the 22nd January 1886
Aged 86 years
'Thou wilt keep him in perfect peace whose
Mind is stayed on thee: because he trusteth in thee.'
'Trust ye in the Lord forever: for in the Lord Jehovah is everlasting strength.
Isaiah XXVI 3-4'
James Stoddart, Clerkenwell Watchmaker (1805-1886)
James Stoddart was the son and grandson of watchmakers who migrated from Scotland to London in the late eighteenth century. The family lived and worked in Red Lion Street, Clerkenwell at nos.13 and 61. During the nineteenth century Clerkenwell was an acknowledged centre of the watch and clock-making trades in London.
James was born in 1805, and baptised at St Johns Clerkenwell on August 16th that year. In 1821 he was apprenticed to the family watchmaking business, becoming a member of the Clockmakers' Company in 1829. By the end of his career he was the Honorary Secretary of the British Horological Institute, and merited an obituary in the society's journal. Although he started out in "trade" by the end of his career he regarded himself as a "gentleman".
Watches made by James still come up for sale at auctions. Amongst his models is a version of the "railway timekeeper". The manufacture of these pocket watches was inspired by the railway boom in the mid-nineteenth century, when railway time became the standard throughout the country.
The 1841 Census records James living in Red Lion Street with his wife Susannah Maria Stoddart (née Hardy) aged 23, and seven year old Anne Stoddart. James was a widower when he married Susannah. His first wife Anne Maria Atkins, whom he married in May 1832, was Anne's mother. Her daughter was born in July 1833, and Anne Maria died in January 1835 at the age of just 21.
Susannah Maria was also a young bride, only nineteen at her marriage, and she too died young aged only 24 in 1842. James was left a widower for the second time, with a daughter aged 8, and when he married for the third time, this time he chose a bride who was twelve years his senior. James and Ann Maria Hardy (a spinster) were married on the 27th June 1843 at St John's Clerkenwell. This marriage lasted until the death of Ann in 1882, and she is buried with James in Hastings Cemetery.
James' second and third wives came from the watch-making community in Clerkenwell. Susannah Stoddart's father was Henry Hardy, and Ann Maria's was Thomas Hardy, both of them watch case makers, and probably related. Ann Maria Hardy was a witness to James' marriage to Susannah, and the two may have been aunt and niece, the aunt subsequently marrying James.
This third marriage lasted and was happy judging by the wording of Ann's epitaph. James and Ann moved from Clerkenwell to Islington, and Anne Maria was married from there in 1859. The groom, the groom's father, and James himself, gave their occupation on the marriage certificate as gentleman, a step up in social rank for James. After he retired James was wealthy enough to move to the coast, and the couple lived at Martock Villa, Ore. Ann died in 1882 and James followed in 1886, aged 80, an obituary appearing in the Horological Journal (Vol 28 March 1886).
As far as can be ascertained, James is not related to William, husband of Clara Eliza Stoddart, buried at AI B26. James' parents were named Robert and Sarah, and his brothers were named Robert and John. William Stoddart was born in Pimlico rather than Clerkenwell, where James Stoddart's family were based, and although the year of his birth,1836, makes it feasible that he could have been James' son, it is unlikely.