Friends of Hastings Cemetery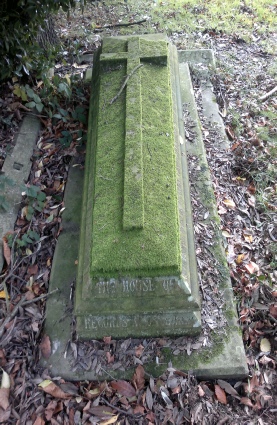 AH G21
Here lies Julia Mary, the beloved eldest child of George John Stone esq,
Clerk in the House of Commons and Ada Ceciley Georgiana, daughter of Sir John Hesketh Lethbridge Bart.
She was born on the 11th October 1846
Died on 21/9/1862 This stone records at once the short happy life her faultless character and her father's unutterable sorrow
Hampshire Advertiser
-
Saturday 17 October 1846
BIRTHS. On Sunday, the 11th instant, at Cosham Lodge, near Portsmouth, the residence of her father, J. H. Lethbridge, esq. Mrs. Geo. Stone of a daughter.
Ada Cicely Georgiana Lethbridge was the daughter of Sir John Hesketh Lethbridge, 3rd Bt, (The Lethbridge Baronetcy, of Westaway House and Winkley Court in the County of Somerset) who was married three times and had 18 children. Her mother, Harriett Rebecca Mytton, was the second wife.
Ada married 3rd May, 1845, George Stone, Esq., eldest son of George Stone, Esq., late of the 7th Hussars, of Ellsworth county, Northampton.
Julia Mary Stone was their daughter.
George Stone obtained a divorce in 1862, citing Henry Moore Brownrigg as co-respondent.
On 12 February 1863 Ada married Sir Henry Moore Brownrigg, son of Lt.-Col. Robert James Brownrigg and Emma Nisbet. [Henry Moore, of Maidenhead and of London, wine merchant, heir presumptive to the Baronetcy]
There are Stones, Lethbridges and Brownriggs in the Cemetery, but as yet we do not know why Julia is buried here. The most likely reason is that she came here for her health, but it is not conclusive.