Friends of Hastings Cemetery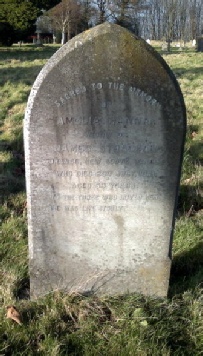 EH L34
Sacred to the memory of
Amelia Hannah
Widow of James Strachan, Orange, New South Wales
Who died 20th July, 1913,
Aged 63 years.

"To the three who loved her She was life itself"
Amelia was born in Limehouse, London in 1848.
James Strachan and Amelia Ward were married on 26th July 1874 in Islington (then in Middlesex)
It would appear that shortly afterwards they departed for Australia. James' brother John may already have been in Orange, New South Wales.
DISSOLUTION OF PARTNERSHIP.
NOTICE is hereby given, that the partnership which has for some time past been carried on by John Strachan and James Strachan, under the firm of "Strachan Brothers," at Orange, in the trade or business of Chemist and Druggist, was dissolved on the 28th day of May last.
—As witness our hands this 26th day of June, 1879.
JOHN STRACHAN.
Witness— JAMES STRACHAN.
D V. Pilcher, Solicitor, Orange.
The business will in future be carried on by Mr. James Strachan, who is empowered to receive all debts owing to the late firm, and by whom all payments will be made.
Sacred to the memory of


James Strachan


Born 8th March 1816
at Lumphanan Aberdeen


Died 5th August 1882 at Orange NSW
Esteemed & regretted by all who knew him.
Erected as a tribute of love & respect by his sorrowing widow Amelia
Buried at Orange, New South Wales
The Sydney Morning Herald Tue 8 Aug 1882

STRACHAN.—August 5, at his residence, Anson-street, Orange,
James Strachan, pharmaceutical chemist, native of Aberdeenshire, Scotland ; aged 36 years.
Deeply regretted.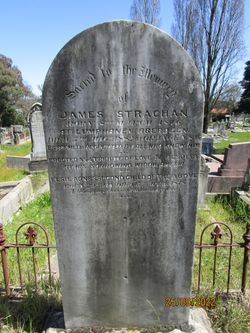 Australian Town and Country Journal (Sydney, NSW) Sat 12 Aug 1882
DECEASED.-It is my painful duty to chronicle the death of Mr. James Strachan, chemist, of this town. The sad event took place early on Saturday morning. During his six years' residence here he has taken an active part in many objects for the good of Orange, and one of his principle works was in connection with the School of Arts, in which he strove to bring the good works of that institution before the public. He leaves a widow and one child.
The child, a daughter, Stella Inez, was born in Orange in 1881/82
Amelia returned to England with her daughter Stella but returned.
The Daily Telegraph (Sydney, NSW) Thu 10 Jul 1884 Passengers to Arrive. Per Cimba, ship, from London, May 27, for Sydney : Saloon — Mdmes. Amelia H. Strachan, Stella Inez Strachan, and Agnes Ives.
By 1891 they had returned to England and were living at Mount Pleasant, Little Amwell, Hertfordshire with Amelia's father, William K Ward who is shown as being supported by family. Amelia is living on her own means.Stella is now nine.
By 1901 the census records them living in "Quarry Road Quarry Crescent" Hastings. By 1911 they are still in Hastings and have one servant.