Friends of Hastings Cemetery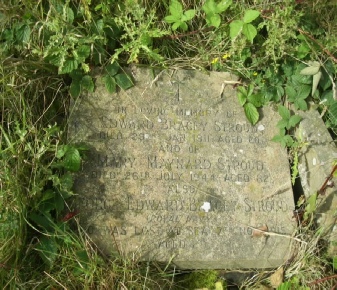 EO E06
In Loving Memory of
Edward Bracey Stroud
Died 29th Jan 1911: Aged 60
and of
Mary Maynard Stroud
died 26th July 1944: Aged 82
Also
George Edward Bracey Stroud
(Royal Navy)
Who was lost at sea 7th Nov 1915
Aged 29
Able Seaman George Edward Bracey Stroud was serving with the Royal Navy on HMS Albemarle when he was accidentally drowned on 7th November 1915. His ship had been serving with the Northern Patrol but was ordered to join the Mediterranean Fleet. She set sail from Scapa Flow on 6th November, heavily laden with spare ammunition. As she reached the Pentland Firth in the early morning of 7th November she ran into severe weather. Two large waves struck her in rapid succession, wrecking her fore bridge and chart house and flooding the forward decks. An officer and a rating (George presumably) were washed overboard and lost, another rating was killed and three officers and sixteen ratings were seriously injured, two fatally. George's body was not recovered and he is remembered on the Portsmouth Naval Memorial.
George was born on 21st February 1887 in St Leonards. He joined the Navy on his eighteenth birthday in 1905 and signed on for 12 years. He was described as blond with grey eyes and a fresh complexion. He served on several ships, joining the Albemarle in December 1913. His records shoqw that he was of very good character throughout his service.
In 1910 he married Louisa Henwood who came from Portsmouth and they were living in Southsea at the time of his death.
His parents were Edward Bracey Stroud (born 1851 in Ramsgate) and Mary Maynard Stroud (born 1862 in Staplehurst). In the 1891 and 1901 censuses the family were recorded as living at 7 Cross Street. George was a porter for an upholsterer, Mary was a machinist for an upholsterer. By 1901 there were four children, George, who at 14 was a chemist's errand boy, his sister Mabel who was 13, and two brothers Ebenezer (8) and Frederick (4). All the children were born in St Leonards. Edward died on 29th January 1911 at the age of 60. In 1911 his widow was living at 23 Alfred Street, with her three younger children and still working as a machinist. Mabel was at home, Ebenezer was a printer compositor and Frederick was a junior clerk at a stationers.
Mary died on 26th July 1944 at the age of 82.