Friends of Hastings Cemetery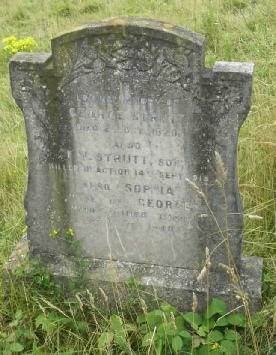 FB H06
In
Loving Memory of
George Strutt
Died 2nd Oct 1928
Also
F. V. Strutt, son
Killed in Action 14th Sept 1918
Also Sophia
Wife of George
[Died 1940, aged 71]
George Walter Strutt ,who died on 2nd October 1928, was born in London in 1864. His father had been a greengrocer and they lived in the East End. His wife, Sophia Croucher, had been born in Rainham Kent in 1869 and her father was an agricultural labourer.
By 1891 Sophia was living in Hastings as a cook and general servant to a Mrs Bradshaw in Linton Road. George and Sophia married in 1893 in Hastings. In 1901 the family was living at 1 Victoria Mews St Leonards. George was working as an ostler/groom and there were three children, Frederick, James and Jack.
By 1911 the family was living at 5 Alfred St, and there were two more children George and Cissie. Frederick was a baker's errand boy. His father was listed as a coachman at a livery stables, although the word 'unemployed' was crossed out. Life may have been quite hard as they seem to have been sharing five rooms with another family of 4 people. The Strutt family was still living there in 1918.
Frederick Victor Strutt was born on 2nd February 1896. He emigrated to Canada in June 1914 aboard the Ausonia, and seems to have gone out possibly on an assisted passage scheme as an agent was involved in placing him with an employer seeking farm labourers.
He joined the Canadian Army on 8th January 1916 at the age of 19 years and 11 months, and at the time of his death he was a private in Ist Canadian Mounted Rifles Brigade (Saskatchewan Regiment). He was initially posted missing but in September 1918 it was decided that 'now for official purposes presumed to have died on or since 14th September 1918'. He is remembered on the Vimy Ridge Memorial and on the war memorial in Baldur, Argyle, Canada.
At the time of his attestation in 1916 he was living in Greenway Manitoba. He is described as 5'8½' tall, of light complexion, blue eyes and light hair. He was a farm labourer. His father George was listed as next of kin.
His brother James also served with the Royal Field Artillery in France but survived the war.
(For more information please see Imperial War Museum's 'Lives of the Great War' digital archive and the documentation provided by a relative. (https://livesofthefirstworldwar.org/lifestory/5733150)