Friends of Hastings Cemetery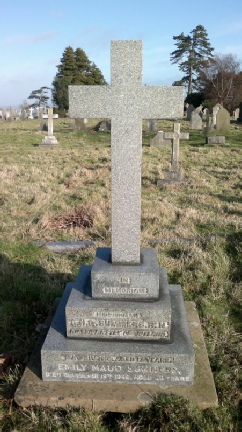 EG F15
Henry Summers
Entered into rest [February 1900] aged 76.
'With Christ, which is far better"
In Memoriam
Midshipman C H G Summers, R.N. Killed Battle of Jutland
May 31st 1916. Aged 17 years
Robert Herbert, Fourth son of Henry and Elizabeth Pearson Summers, killed in the Zontsparnberg District, May 1st 1901, Aged 26 years.
Also of
Elizabeth Pearson Summers
wife of the above who entered into rest
? July 1906, Aged 67 years
Emily Maud Summers
Died December 18th 1939, Aged 68 years
Cyril Henry Gerald Summers is commemorated on the grave of his grandfather Henry Summers, who had originally lived in Redhill where he had a drapery business and had been mayor.
Cyril was born on 18th April 1899 at Leighton Buzzard, Bedfordshire, the son of Marjorie (nee Pryor) and Frank Summers. In 1901 the family were living at 17 Holland Park Avenue. Cyril, their only child, in 1911 was attending a private preparatory school in Wokingham which prepared boys for the Army, Navy and Colonial Service. He then went on to Dartmouth for preparation for the navy.
He was serving as a midshipman on HMS Indefatigable, a battle cruiser, when she was sunk on 31 May 1916 during the Battle of Jutland, the largest naval battle of the war. She was hit several times by shells from the German battle cruiser Von der Tann. The resulting explosion ripped a hole in her hull, and a second explosion hurled large pieces of the ship high in the air. Only two of the crew of 1,019 survived.
He is commemorated on the Plymouth Naval Memorial.
His father, Lieutenant Colonel Frank Summers DSO DSC, served with distinction in the Tank Corps in the First World War. [See more at https://www.greatwarforum.org/topic/143177-british-instructors-at-camp-colt/ ctrl f summers or scroll down}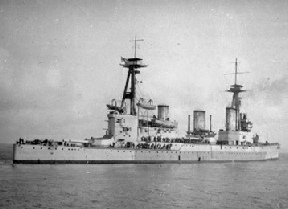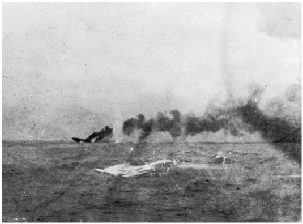 HMS Indefatigable sinking in May 1916