Friends of Hastings Cemetery

They are also listed as the publishers of Missionary Leaves by the Church Missionary Society and for the Annual Report of the Indian Female Normal School and Instruction Society.
Suter acted for all these charitable organisations as bookseller and postal address, but he was actively involved himself as a member of the Spitalfield Benevolent Society, set up in 1811 by the evangelical Reverend Josiah Pratt to assist the poor. In 1820, Suter is named as one of the stewards of the Society
The Infant School Society decided in 1828 to move their depository from 15, Bucklersbury to 19, Cheapside. The society was founded in 1824 to support "the care and education of the infant children of the labouring classes". Pictures were used to teach the children basic knowledge and discipline. The philanthropic repertory of plans and suggestions for improving the condition of the labouring poor of 1841 recommended the Infant School initiative and announced that scripture lessons, illustrations, &c. for Infant schools could be had from Suter.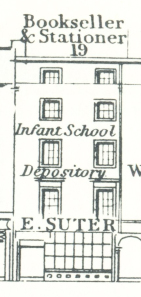 In the Publishers' circular of 1862, Suter advertised "A new catalogue of lessons, pictures, and apparatus, used in Infant Schools, Sunday Schools, and Nurseries". One of these picture publications was a set of six coloured depictions of the sugar trade, accompanied by letter-press text leaves which have the imprint 'Printed by Edward Suter, printer to the Infant School Society, 19. Cheapside, London, for the Ladies' Society for Promoting the Early Education of Negro Children'.
The aquatint plates had first been published in 1823 in William Clark's Ten views in the Island of Antigua and were re-used by the Ladies' Society with large letter text to teach children to read. This Ladies' Society (officially founded as The Ladies' Society for Promoting the Early Education and Improvement of the Children of Negroes and people of Colour in the British West Indies) had been established in 1825 and paid for schools in the West Indies from voluntary contributions.
http://londonstreetviews.wordpress.com/2012/12/16/edward-suter/