Friends
Of
Hastings
Cemetery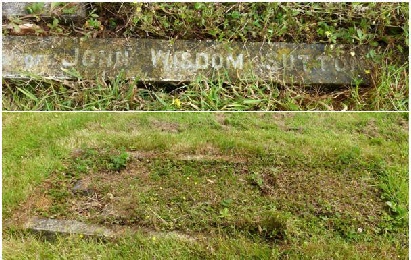 DG A168
John Wisdom Sutton
Died 5th November 1921
Aged 68
Phoebe Sutton
Died 10th August 1926
Aged 65
{Inscriptions on kerbs)
At the time this was written up [2013?] John Wisdom Paige Sutton was also recorded. The grave has since been updated [photo 2019].

In 1901 the family were living at 65 Marina. John Wisdom Sutton (senior) was a lodging house keeper, born in 1853 in Hastings. His wife Phoebe came from Yorkshire. They had three children, Henrietta (b c1893 St Leonards), John (b c1895) and Louis (born c1899 St Leonards).
By 1911 the family was living at 71 Vale Rd, St Leonards. The parents were still lodging house keepers, but Henrietta (now known as Grace) was a milliner, John (now called Jack) was a solicitor's clerk and Louis (now called Victor) was still at school.
At the time of John W P Sutton's death, the family was living at 43 Alma Terrace, Silverhill
John Wisdom Paige Sutton was a private (acting corporal) G/1528 in the 2nd Battalion Royal Sussex Regiment. His brother, Louis Victor, was not visibly recorded on the grave when this record was first written up.
On Cross
In Loving Memory of
John Wisdom P. Sutton
Killed at Richborou L'Avoue
on May 9th 1915
Aged 20
Also
Louis Victor Sutton
Royal Fusiliers
Who Died from wounds
Received at [? - Somme]
February 23rd 1918
Aged 19 years
In Memory of two loving brothers
With Christ which is
far better.
Commemorated on the Le Touret Memorial.
Buried at Rocquigny-Equancourt Road British Cemetery, Manancourt
CWG records show only his Mother, and her name is given as Mrs. R. Sutton, of the Alma Terrace address.