Friends of Hastings Cemetery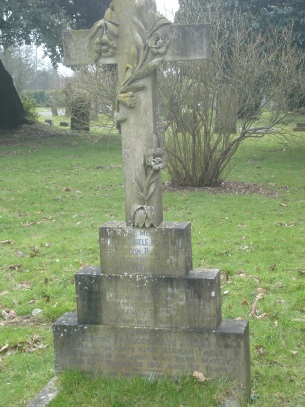 AQ A15
In Loving Memory of
Herman Thiele M.B.C.M
Surgeon R.A.M.C
Who died at Murree,India
1883
Basil Whitly (Sonny)
loved and only child who was lent to his
mother for five short years and then taken..
January ?? 1893
Also
Lousia Frances Kate Thiele
Wife of the above named Herman Thiele
And Mother of the above named Basil Whitly
Died 29th September 1931 Aged 69 years
'The souls of the righteous are with God'
Hastings and St Leonards Observer - Saturday 28 August 1886
MARRIAGE. THIELE-Dixon. On the 15th August, at St. John's Church, Chatham, by the Rev. Henry Boys, rector, Herman Thiele, M.B.C.M., Surgeon M. S. to Louisa Frances Kate, younger daughter S. E Dixon, Esq., of Hastings. Dr. Thiele. with his wife, leaves England next month in one of the Government transports, for India. Taken from the London Times
Hastings and St Leonards Observer - Saturday 18 August 1888
We record the death in India of Surgeon Thiele, son-in-law of Mr. S. E Dixon, our well known townsman. A surgeon, Dr.Thiele was married to Mr. Dixon's daughter—a lady who had lived amongst us since her childhood—on August 15th. 1886, and sailed with her from here in November of the same year, on board the 'Eurapia' troopship, in which his widow and little child are now returning England. The Lahore Civil and Military Gazette thus comments on the sad event "A gloom has been cast over the station (Murree) by the death, from enteric fever, of Herman Thiele, Medical Staff, which occurred on the 7th instant at Lady Roberts' Hospital.
This promising young officer only arrived in India in the spring of 1887 and since then he has held the appointment of Staff Surgeon of Peshawur. He contracted his fatal illness on his way back from Thundiani, where he had been on a short leave of absence. He was buried with full military honours, Sunday afternoon, the firing party being composed of troops from the Murree depot and the band being furnished by the Northumbrian Fusiliers from Kuldumah. The attendance the funeral was large........
Dr. Thiele, who was only 29 years of age has left a young widow and child, for whom profound and general sympathy is felt. Mrs. Thiele used to attend the Misses Penny's school here.