Friends
Of
Hastings
Cemetery
EB D25 Edwin Thomas, waterman: drowned in the yacht Mischief 1888
Edwin Thomas was aged 42 when he died. He left a widow and 11 children, 3 in the army and 8 still dependent. A subscription list was opened to raise money for Thomas's family, and Harry Ferguson's widow paid the cost of the funeral arrangements. Certainly Thomas had a grander send-off than might have been expected, with an open hearse followed by four mourning carriages leaving his home at 7 Wellington Road, Silverhill on 3 September for the Borough Cemetery. N.B. Thomas's Christian name was given as Edward in the press reports, but it is Edwin on the headstone and in the burial records.
Footnote: The ashes of Edwin's son Walter, 9 years old at the time of his father's death, were scattered on the grave after his death in 1952 at the age of 73.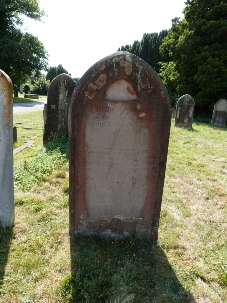 From the Hastings & St Leonards Observer, Saturday September 1st 1888:
"Sad Yachting Fatality
A Gentleman and His Engineer Drowned".
According to the newspaper report, the previous Thursday, William Henry Ferguson, a gentleman residing at Fairlawns, Hollington Park, had set out on a fishing trip in his yacht Mischief, crewed by its master Francis Balcombe, and the engineer of Ferguson's steam launch, Edwin Thomas. The yacht was moored off Warrior Square to collect Mr Ferguson, and then sailed to a point off Galley Hill. There were gusty winds that day: "it will be remembered that on Thursday morning a fresh S.S.W. wind was blowing, and it was thought necessary to put a stop to the Regatta, which had been commenced." Balcombe was managing the sails and setting the trawl net when a squall hit the boat. Balcombe shouted to Thomas to lower the haul yards in order to lower the mainsail, but before the latter could act, the yacht capsized, took on water, and sank.
Neither Thomas nor Ferguson was a swimmer. Thomas went down with the boat, and Ferguson struggled on the surface before sinking. Balcombe swam for the shore and was picked up by another vessel, the Favourite (77 RX). Balcombe told the inquest "if Thomas could have let them [the peak haul yards] go, the accident might not have happened", but when shouted at to do so, Thomas was looking over his shoulder at the approaching squall, and did not respond in time.
Thomas's son James, a telegraph-linesman in the Royal Engineers, outlined his father's experience as an engine-driver, and sailor, and subsequently a waterman for Mr Ferguson. Balcombe said he judged Thomas to be a competent waterman. The jury returned a verdict that Ferguson and Thomas had been accidentally drowned (Hastings & St Leonards Observer 8 Sep 1888).
Harry Ferguson's funeral took place at Hollington Church in the Wood, Thomas's son James and his mother among the mourners, the Observer noting that "the scarlet uniform of [James Thomas] affording strong contrast to the sombre garb of the other mourners".