Friends of Hastings Cemetery

DG A220
Thomas James Thorburn
Charles Edward Angus Thorburn
Thomas James Thorburn was 'a Clerk in Holy Orders' a Doctor of Divinity and an LLD, married to Emily Jane. They had two children, Charles, and Evelyn May Charlotte Emily. He originated from Derby, and apart from Sheffield, the family had also lived in Odiham in Hampshire. In 1901 the family address is The Grammar School Odiham.
At the time of his son's death, he was acting Headmaster of Hastings Grammar School. He is buried in the same plot as his son (he died on 16th January 1923) but his grave is unmarked.
Thomas James Thorburn was quite a prolific writer of religious books, some of which are still available. In 1915 he was awarded the Bross Prize, awarded by an American Foundation for outstanding pieces of religious writing. In his submission for the prize he pays tribute as follows: "Finally, the author's thanks are due to his son, Charles E. A. Thorburn, for his kindness in typing the three copies of the original manuscript which were required by the conditions of the trust."
'A Critical Examination of the Evidence for the Doctrine of the Virgin Birth'

'The Mythical Interpretation of the Gospels'

The Resurrection Narratives And Modern Criticism: A Critique Mainly of Professor Schmiedel's Article Resurrection Narratives in the Encyclopedia Biblica by Thomas James Thorburn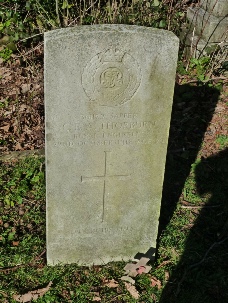 Hastings, the family home in the 1911 Census.
Charles was born on 16th June 1889 in Sheffield where his father was science master at the Royal Grammar School. He was educated at home and in the 1911 Census he is described as 'student (for Cambridge). However, although he went to Selwyn College it is unclear if he finished his degree as his entry in de Ruvigny's Roll of Honour reads 'was an undergraduate (in bad health)'
It is not known what he did in the years between university and joining the army, although he seems to have helped his father with his writing.Hastings and St Leonards Observer - Saturday 02 November 1918
SAPPER THORBURN. The Acting Headmaster of the Hastings Grammar School, the Rev Dr. T. J. Thorburn, and Mrs. Thorburn, of St. Helen's Down, have suffered sad bereavement by the death of their only son, Sapper Charles Edward Angus Thorburn, R.E.
Death took place at the Military Hospital, Fort Pitt, Chatham, at the age of 28. For the military funeral last Monday the boys and staff subscribed £2 15s. to purchase a wreath. On the Headmaster's own suggestion this sum was instead handed over to the Red Cross Society in memoriam. The School was represented at the funeral by the Sixth Form.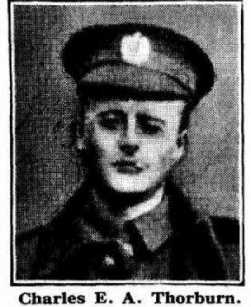 Charles Edward Angus Thorburn joined the Royal Engineers in 1917 (at the relatively late age of 28) and served with them in the ''L'' (Depot) Coy. at Chatham where he died on 22nd October 1918 in the Fort Pitt Hospital, from septic pneumonia contracted whilst on service. He was unmarried. He was the son of Mrs E. J. Thorburn, Ivy House, 21 St Helens Rd Hastings and the only grandson of the late Captain Thomas Charles Thorburn R.E. His father, Thomas, is not mentioned on the CWGC site, but is listed by De Ruvigny as living at 'The Bungalow', St Helen's Down,