Friends of Hastings Cemetery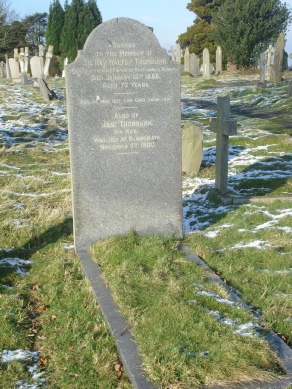 EG B25
Sacred to the Memory of The Rev. Walter Thorburn. Minister to the Free Church of Scotland in Bermuda
Died January 13th 1888
Aged 72 Years
'And he was not, for God took him'
.
Also of Jane Thorburn, his wife,
Who died at Blackheath,
November 9th 1900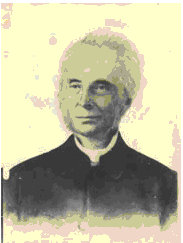 Walter was born in Bowden on the 9th February 1815. He was the 8th of 10 children to Robert Thorburn (1775-1825) and his wife, Margaret Cochrane (1781-1849).
Walter, like his older brother, Robert, joined the Church. In the 1841 Scottish Census Walter can be found studying theology at Edinburgh, and is recorded living at
Wrights Houses, in the Canongate, Edinburgh.
We have a record of Walter visiting his brother, the Rev Robert, in Falmouth Jamaica in 1844.
Walter Thorburn married Jane Miller (b. 1819, Scotland) on the 20th July 1850 in Edinburgh. The young couple promptly left for Bermuda, where Walter was inducted into the charge of Christ Church, Warwick which is one of the oldest Presbyterian churches and dates back to 1719.
Jane had her third child, Emma, in Scotland, so it is not inconceivable that the family visited Edinburgh on occasions. [Reports granting nine months leave of absence to the Reverend Walter Thorburn, Presbyterian minister, to enable him to visit England on urgent private affairs. – National Archives]
Walter was minister in Bermuda from 1852 to 1886, retiring at the age of 70 after 34 years of faithful service. It memorializes Rev. Walter Thorburn, minister of the Church from 1852 to 1886. (http://www.christchurch.bm/history.html)
He and Jane returned to Britain in that year along with their two daughters, Jane and Emily. They settled in Baldslow Road, Hastings, Sussex.
Unfortunately Walter's retirement did not last long and he died on the 13th January 1888.
The family continued to live in the same house, as evidenced in the 1891 Census, but then moved to Greenwich [Blackheath on tombstone] in London where Jane died in October 1900 aged 82.
In the 1901 Census only the two daughters are living there along with their older brother's wife, Olive, and her son John W C Thorburn.