Friends of Hastings Cemetery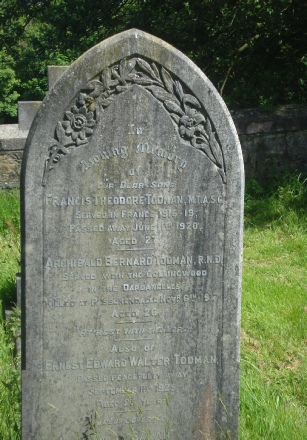 EV [?]
In
Loving Memory
of
Our Dear Sons
Francis Theodore Todman, M.T.A.S.G
Served in France 1916 - 19
Passsed away June 11th 1920.
Aged 27
Archibald Bernard Todman, R.N.N
Served with the Collingwood
in The Dardanelles
Killed in Passendale Nov.r 6th 1917
Aged 26
'At rest with the Lord'
Also of
Ernest Edward Walter Todman
Passed peaceably away
September 11th 1925
Aged 26 Years
'Jesus loves them'
'Archibald Bernard Todman, Anson Battalion, Royal Naval Division, officially reported killed in action on November 6th 1917. Dearly loved and eldest son of Mr and Mrs G.E.Todman, 2 Lower South Rd, Bohemia, St Leonards, aged 26 years.' (Hastings Observer July 1918)
He had originally been posted missing in action, assumed killed. He is remembered on the Tyne Cot Memorial. The Hastings Observer of 29th June 1918 includes the following report.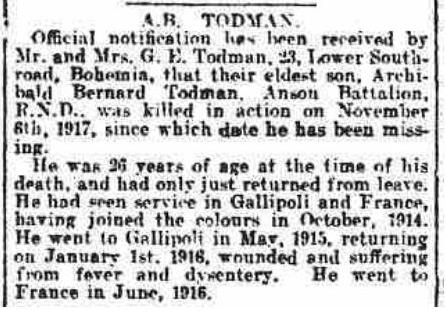 Archibald was born on 10th March 1892 in Hastings. His parents George and Sarah were not locals, he coming from Chichester and she from Bedfordshire, but they had obviously been settled in Hastings for some time as in 1901 they were living at 11 Horntye Rd.
There were five children, Theresa (11), Archibald (9), Francis (7), Louisa (5) and Ernest (2). George Todman was a saddler and harness maker. All the children were born in Hastings except Theresa who was born in Islington.
In 1911 George and Sarah were living at 23 Lower South St. with four of their children, all of whom were born in Hastings. Archibald (18) was a porter for an Oil and Colour Merchant, his sister Louise (15) was 'at home' and his two younger brothers Ernest Edward (11) and Percy Henry (9) were at school. His father was still a saddler and harness maker and described as a jobmaster.
Archibald volunteered in 1914 and enlisted on 27th October of that year. He was described as 5' 5''tall with a