Friends of Hastings Cemetery

EH O09 Travers Otho Robert aged 64, died November 1916.
The stone is fallen, and so the details for Otho Robert cannot be read; on the reverse is a memorial to his son:
Also to his only son
Otho Boyle Travers
Drowned at Sea
March 26th 1917
Aged 37 years
Otho Robert Travers was born in Epsom in 1852 and married in Epping in 1878.
London Stratford Times And Bow And Bromley News And Bromley and South Essex Gazette – 27/02/1878
Marriage of Miss Barnard ,of Harlow.—Miss Eliza Broughton, eldest daughter of the late AVM. Barnard, of Harlow, was on Wednesday married to Mr. Otho Robert Travers, a gentleman who is well known and respected in the medical profession, now in practice at St. Leonard's.
Their son, Otho Boyle was born in Hastings in 1879.
Otho Robert was a doctor and surgeon.
THE LONDON GAZETTE, SEPTEMBER 17, 1886 - VOLUNTEER CORPS. - ARTILLERY.
1st Cinque Ports, Otho Robert Travers, Gent., to be Acting-Surgeon. Dated 18th September, 1886
VOLUNTEER CORPS. ARTILLERY.
4th Volunteer (Cinque Ports) Brigade, Cinque Ports Division, Royal Artillery, Acting Surgeon Otho Robert Travers is appointed Second Lieutenant. Dated 6th August, 1887
The 1891 census shows them living at San Nicholas London Road, Otho B is 11, and they have a daughter, Muriel, aged 7. There are three servants.
Hastings and St Leonards Observer 28 Mar 1891
Dr. E. O. Travers Singapore. Successful Encounter With A Tiger. The following taken from the Singapore Free Press. Dr. E. O. Travers is a brother of Dr. Otho Travers, at St. Leonards. (the popular president of the Angling Association).…
Hastings and St Leonards Observer, 25 Nov 1916
DEATH OF DR. TRAVERS. Well-known St. Leonards practitioner. Many residents will be sorry to learn that Mr. Otho R Travers, M.R.C.S., died at his residence, in London-road, St. Leonards.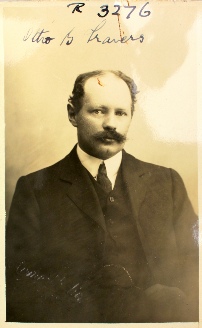 Otho Boyle Travers, was a successful scholar at school – "Otho Travers, pupil Winchester School, and son of Dr. Travers, of London-road, Leonards, was one of successful candidates for scholarships. He went on to become a doctor himself.
New South Wales Medical Board has a record of an Otto Boyle Travers; his name is recorded under this spelling elsewhere .
Travers - Accidentally drowned from s.s. "Romney" on March 26th 1917. Dr. Otho Boyle Travers, only son of the late Otho Robert Travers and Mrs Travers, of 171, London Road, St. Leonards on Sea. Aged 37 years.