Friends of Hastings Cemetery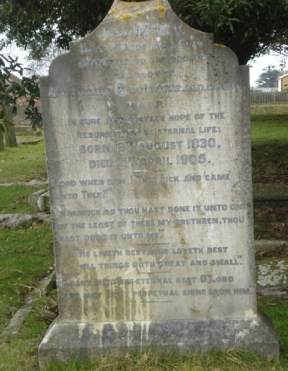 Jesu Mercy
Here in God's acre was
Committed [?] to the ground
the body of
Dr Thomas Trollope MD. Cantab.
M.R.C.P
In sure and certain hope of the
Resurrection to eternal life
Born 12th August 1830
Died 21st April 1905
'Lord when saw I thee sick and came
unto thee?'
"In as much as thou hast done it unto one
of the least of these my brethren, thou
hast done it unto me"
"He liveth best who loveth best
All things both great and small."
Grant ot him eternal rest O Lord
And may light perpetual shine upon him.

AQ I29
Thomas Trollope was born on 12 August 1830. He was the son of Thomas Trollope and Mary Canning. He married Esther Sarah Huffam, daughter of Captain J. A. Huffam, on 13 February 1858.
He was Joint Honorary Secretary, East Sussex Medico-Chirurgical Society, 1864.
Living at 9 Maze Hill in 1885
Esther died in 1880, aged 46. Thomas died on 21 April 1905 at age 74
He graduated from Cambridge University, Cambridge, Cambridgeshire, England, with a Doctor of Medicine (M.D.). He was registered as a Member, Royal College of Physicians, London (M.R.C.P.).
1891 census shows him still at at 9 Maze Hill. Thomas had a housekeeper, a house maid (aged 14) and a page (aged 15).
Dr Trollope first lived at 34 Marina and is recorded there as a general practitioner in 1864. In 1867 he had moved to 35 Marina but by 1874 he was at 9 Maze Hill where he died in 1905.
He bequeathed £1000 to Christ Church, St Leonards for benefit of the sick and poor; the income from this in 1931 was £40.16s.2d. There was also £300 from his legacy used in 1907 to replace the font, in his memory, the new one being designed by Sir Arthur Blomfield (the original architect). Dr Trollope was an unofficial churchwarden for Christ Church, St Leonards pre-1884; appointed for 1885-93. He also bequeathed £500 to St Paul's church for curates' stipend; with a further £500 for general church purposes; income for the two charities, £33 in 1937
Bequest to Brassey Institute [HMAG} by Dr Trollope, of painting by Henry Brittan Willis 'A drop at the fountain'.
From Hastings & St Leonards Observer
Freemason's Funeral
April 22, 1905
Death of Dr T Trollope at his residence, 9 Maze Hill, on 21 April. He was a highly rated physician, aged almost 80, who came to Hastings in the early 1860s and was lately the chief honorary surgeon at Hastings Hospital. He had a stroke a few months before. He was said to be the best friend of the poor. He was also a senior Freemason, having been a past Grand Deacon of England and holder of many other top posts. His imposing funeral on the 27th was masonic, with 40 carriages following the hearse along the seafront to the cemetery.
There was a very large turnout of masons.