Friends of Hastings Cemetery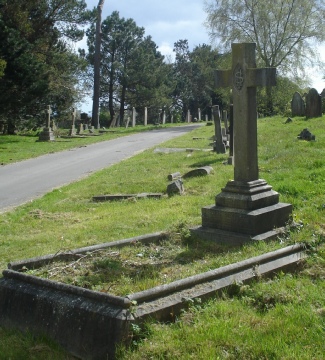 Lieutenant Francis George Truscott was born on 12th August 1894 at Redhill, the elder son of George Wyatt Truscott and Jessie Guthrie Stanham Truscott.
His father was chairman of Brown, Knight and Truscott, a firm of printers and stationers who was knighted in 1902 and raised to Baronet in 1909, being created First Baronet Truscott of Oakleigh, East Grinstead. He held many civic offices, being first Sheriff of the City of London, then Lord Mayor of the same and later Lieutenant of the City. He was also awarded many other honours. He died in 1941 at the age of 83.
Lady Truscott was the only daughter of George Gordon Stanham. She married George Wyatt Truscott on 26th October 1889 and they had four children, Marie born 1890, Nancy born 1892, Francis, and Eric born 1898. Eric also fought in the First World War but survived and succeeded his father as Baronet. Lady Truscott died on 3rd August 1921 and it is on her grave that her son Francis is remembered.
She was invested as a Dame of Grace of the Order of St John, an organisation dedicated to humanitarian aid and primary medical treatment for all. We know it better today as St John Ambulance.
The family lived in some style. In 1911 they resided at Greatwood, Camden Wood, Chislehurst with two domestic nurses, a sick-nurse and five other household staff, as well as outside staff (coachman, grooms, gardeners etc).
Francis attended Rugby School and then was admitted as a pensioner to Trinity College, Cambridge in June 1912. He represented his college at Henley the following year, and when war broke out he immediately sought a commission as a 2nd Lieutenant in the Suffolk Cyclists Corps and went straight from college into the army, having been awarded a BA degree.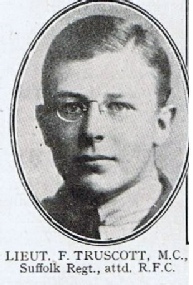 He fought with the 6th Battalion Suffolk Regiment (Territorial Force), twice being mentioned in despatches, once in November 1915 for bravery in the Battle of Loos and in January 1916 he was awarded the Military Cross. Unfortunately there is no citation given in the London Gazette so we do not know what he did to be awarded the medal.
He transferred to the Royal Flying Corps in January 1917, as an observer in 45 Squadron. He is credited with being instrumental in destroying two German planes. On 6th April 1917 he and his pilot 2nd Lieutenant J. A. Marshall took off on a routine reconnaissance patrol in a Sopwith Strutter, along with other members of their squadron. He was shot down by Ltn Joachim von Bertrab of Ja30 at 10.43am. Two other planes belonging to 45 Squadron were shot down within minutes of this. Marshall was killed outright (he was only 19) but Francis Truscott died of his wounds later that day. He was buried originally in Ramegnies Churchyard next to his pilot but was later moved to Tournai Communal Cemetery, (Allied Extension).
EM A09
Devoted wife and mother Jessie Guthrie
( Lady of Grace of the Order of
St John of Jerusalem in England)
Wife of Sir George Wyatt Truscott Bt.
Born 3rd April 1854 passed into the spirit life
at Oakleigh, East Grinstead 3rd August 1921
'The passing is but a moment'.
Also to the proud memory of their much loved elder son
… George Truscott…. Suffolk Regt.
Killed in the Great War on 6th April 1917 age 22 yrs. Buried in the churchyard of Ramegnies…Chine..nea.
Per Ardua Ad Adastra.
"Bless the Lord O my soul and all that is within me bless his holy name."
The psalm she loved so well.