Friends of Hastings Cemetery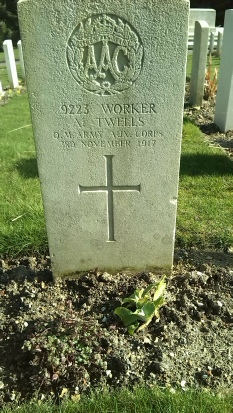 LD K28
TWELLS, ALICE; Rank:Worker, Queen Mary's Army Auxiliary Corps; Died 3rd November, 1917
Alice was born in Hockley, Birmingham. The 1901 Census shows Alice with parents Charles & Eliza, and a brother, also Charles. Also her Grandfather at Park Lane, Aston Manor. Her father and Grandfather were boot makers, and her mother a Pearl button maker. Her father died 1909. Sometime after this Charles and Alice were sent to Marston Green Children's home in Birmingham. Alice's mother Eliza in 1911 was in the City Fever Hospital Lodge Rd, Birmingham as an inmate. She died 1917
May, named in the report below as being the person who gave the evidence of identification, was Alice's sister-in-law.
Hastings and St Leonards Observer - Saturday 10 November 1917
FATAL FALL TO A YOUNG WOMAN WAR WORKER AT ST. LEONARDS. On Monday night Mr. H.C. Davenport Jones (Deputy Borough Coroner) held an inquiry concerning the death of Alice Twells, 18 years of age, and a member of the W.A.A.C. Evidence of identification was given by May Twells, a sister-in-law, of 363,
New John-street, Birmingham. Deceased was a strong, helathy girl and was not subject to fits.
Rhoda Annie Higgins, a member of the W.A.A.C., billeted at 86, Warrior-square, said that on Sunday evening she was with deceased at 64, Warrior-square. At 7.20 deceased was quite all right and left to take some plates to the Concert Hall, as was the custom after supper. She shut the vestibule door as she left. It was very dark, with just a small light in the hall. Just after deceased left witness heard a noise of the breaking of crockery. She opened the door and called several times but could not get any answer. Doris Monflet came out with her; they called out but ot no reply, and after striking matches and finding nothing they concluded all was right.
There was a flat step 11 feet long and 5 feet wide which had to be passed over before reaching the public pavement. On either side there was a dwarf wall with railings on top 30 inches high, and over either side of this there was a basement 13 feet deep. Over this the deceased must have fallen in the dark. Deceased was 5 ft. 6 or 5ft. 7 in height. Janet Kelly, a member of the W.A.A.C., said that she saw deceased on the floor of the basement. She was on her back, lying in a pool of blood. She obtained assistance. Deceased was dead and quite stiff. A doctor was fetched. Broken plates and spoons were lying by deceased's side.
The funeral took place with military honours on Thursday afternoon. The coffin, covered with the Union Jack, was conveyed to the Cemetery on a car preceded by a firing party of the Middlesex Regiment. The pall bearers were supplied by the Royal Flying Corps. The escort consisted of a large contingent of the W.A.A.C., under the command of the Administration. The service was conducted by the Army Chaplain of the Forces, the grave being situated in the heroes' corner.