Friends of Hastings Cemetery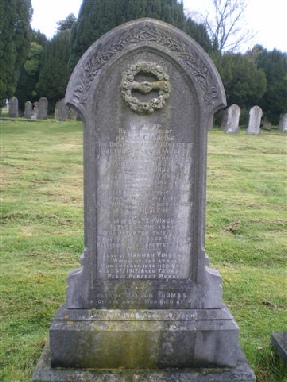 AU K14
IN LOVING
REMEMBRANCE OF HANNAH CAROLINE
THE DARLING AND ONLY DAUGHTER OF WALTER & HANNAH VINCETT
WHO AFTER SEVERE SUFFERING BORN WITH PATIENCE, ENTERED INTO REST
JANUARY 17 1852
AGED 7 YEARS & NINE MONTHS
JESUS CALLED A LITTLE CHILD UNTO HIM
_____________________
THIS DEAR CHILD TO US WAS ONLY LENT
WE THOUGHT HER SURELY GIVEN,
BUT JESUS CALLED, AND THEN SHE WENT
TO LIVE WITH HIM IN HEAVEN
___________________
ALSO OF WALTER VINCETT
FATHER OF THE ABOVE,
WHO DEPARTED THIS LIFE
Nov 16TH 1888, AGED 48 YEARS
BELOVED IN LIFE, LAMENTED IN DEATH
ALSO OF HANNAH VINCETT,
WIDOW OF THE ABOVE
WHO ENTERED INTO HER REST
FEB 6THT 1917, AGED 72 YEARS.
PEACE, PERFECT PEACE.
ALSO WALTER THOMAS
SON OF THE ABOVE
WHO DIED AT USA
JULY 2ND 1909 [?].AGED 39 YEARS
VINCETT(VINCENT, VINSETT), Walter, Senior
Butcher, Stonefields, registered elector 1836-7; Butcher, Stone St, 1839
Butcher, no.18 Stone St, 1854, 1867
Walter Vincett jnr', butcher, no.18 Stone St, 1874.
Butcher, Stone Street, Shareholder, steamship co, 1885-90.


Hastings and St Leonards Observer - Saturday 21 December 1878
OUR SHOPS CHRISTMASTIDE - STONE-STREET. The only shop in this street which calls for special mention that of Mr. Walter Vincett, butcher, who has, according to his usual custom, a most excellent collection of prime beef and mutton, and his establishment is well worthy of a visit. Amongst his selection are fourteen or fifteen beasts, most of which have gained prizes at the Rye show; ten Kent wether sheep, all of which also took prizes at the Rye show; first-prize Devonshire steer, ten Southdown prime lambs…
Hastings and St Leonards Observer - Saturday 22 March 1884
THE ST. MARY-IN-THE-CASTLE (LOWER) CONSERVATIVE ASSOCIATION. PRESENTATION TO MR. WALTER VINCETT. A large number of Conservatives assembled at the Fountain Inn, Queens-road, on Thursday evening, for the purpose of taking part the presentation of an excellent portrait of the recipient, to Mr. Walter Vincett, as a slight token of recognition of the valuable services he has rendered to the Conservative cause in these towns..…
Hastings and St Leonards Observer - Saturday 17 November 1888
DEATH OF MR. VINCETT. (LAST EVENING). We heard with feelings of very great regret last night that Mr. Vincett, the well known butcher, Stone-street, died during the course of the evening. He had been unwell for some time previously, and on Friday, unfortunately, the illness terminated fatally. Mr. Vincett had a large business, but, we believe, took hardly any active part in public matters. There was, however, one exception, and that was in 1883, when he contested St. Mary-in-the-Castle Ward against Mr. Carless, on a vacancy arising through the death of Mr. Catt. Mr. Vincett was, however, defeated by 75 votes. The deceased gentleman waa a Conservative, but was actively interested in furthering tbe cause of Independent candidates in the ward named.
Hastings and St Leonards Observer - Saturday 24 November 1888
THE FUNERAL OF MR VINCETT. The funeral ot Mr. Walter Vincett, of Stone-street, Queen's-road, took place on Wednesday afternoon, at the Borough Cemetery. A large number of people were present to pay their last respects to the deceased gentleman, and to show sympathy for the widow and family.
Mr. Vincett was widely known in the town, and he will be greatly missed by his many friends. He had the reputation being the most kind hearted of men, both in his public and domestic life. His manner was open and free, and though he was ever ready to have a practical joke, never was he known to take part in one that really injured in any way the person on whom it was played.
In his younger days, Mr. Vincett took great interest in cricket, and some years ago, we are told, won a certain amount fame for short distance running.
As a proof of the esteem in which Mr. Vincett was held, it may be said that the cortege was formed of ten coaches, and that, on the way to the burial ground, one noticed that many blinds were drawn and shutters put up. .....
Hastings and St Leonards Observer - Saturday 05 January 1889
TO BUTCHERS.—The profitable Butcher's Business - of the late Mr. Walter Vincett, of Hastings, to disposed of, a going concern ; dwelling house, shop, and slaughter-house.—
1881 Census - Stone Street
Walter Vincett Head Male 39 Hastings,
- Butcher
Hannah Vincett Wife Female 36 Hastings,
Walter T Vincett Son Male 12 Hastings,
Hannah C Vincett Daughter Female 6
Walter Vincett Father Male 80 Hastings,
(Buried in AU K15)
Agnes Cox Servant Female 18 Hastings,