Friends
Of
Hastings
Cemetery
Henry Ward DG
Henry Ward was born at Peckham, Kent in July 1854. He arrived in Hastings in his late twenties. By April 1871 he was living as a lodger at 36 St Marys Terrace, Hastings.
In 1882 he married Annie Dorrington at Christchurch, Greenwich. In April 1891 they are living at 148 Millward Road Hastings.
Ward served his apprenticeship with architectural practices in London and Paris and briefly worked for Walter Liberty Vernon, architect. When Vernon went to Australia Ward continued his practice from 8 Bank Buildings where Body Shop is now in 2013.
By 1911 the family were living at "Poynings", 97 Lower Park Road (now known as 87 Lower Park Road). Ward designed the houses from number 83 to number 86 Lower Park Road.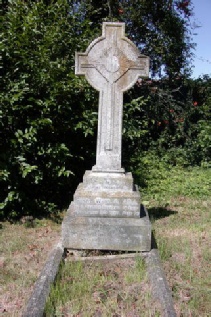 Obituary from Hastings Observer, 10th September 1927
A GREAT ARCHITECT
DEATH OF MR.HENRY WARD
MONUMENTS TO A DISTINGUISHED CAREER
We deeply regret to record the death at the climax of a long and distinguished career, of Mr Henry Ward, A.R.I.B.A., the well-known architect. After a long illness Mr Ward died yesterday (Friday) morning, at the age of 73, at his residence, 22 MagdalenTerrace, Bohemia Road, St.Leonards.
Last year Mr Ward underwent an operation, and appeared to recover his health. He was again taken ill on July 5th this year, and after lying in a slowly weakening condition ever since, he passed away yesterday.
Many monuments to the ability and artistic skill of the late Mr. Ward remain to keep alive the memory of a man who was widely known and respected throughout the town and indeed, in professional circles throughout the country.
Continued on NEXT PAGE