Friends
Of
Hastings
Cemetery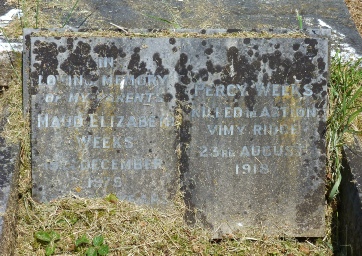 CA K14 - Percy Weeks; Maud Weeks
Percy was the son of Thomas and Esther Weeks of Wilmington Rd, Hastings and the husband of Maud.
Percy was born in Hastings in 1888; his father Thomas was born in Herstmonceaux in 1854 and his mother in Catsfield also in 1854.
In 1911 the family lived at 6 Wissenberg Terrace, Hoads Wood Rd. Thomas was a coachman, and Percy, one of eight surviving children out of eleven was a gardener/nurseryman.
Percy married Maud E. Morten in 1912 in Epping, having presumably met her in Hastings as in 1911, she is listed as a servant/cook to a Doctor Roberts and his family, at 18 Cambridge Road.
It would appear that she did not remarry, as it is her grave on which he is commemorated. She died in 1975 at the age of 84 still with the surname Weeks. They obviously had at least one child, as the inscription states "In Loving Memory of my parents….".
'Killed in action Vimy Ridge 23rd August 1918.' .In March 1918 General Erich Ludendorff launched his Spring 1918 offensive when the rapid advance by the German Army severely routed the British Army which went into retreat on a wide front. But the British defences on Vimy Ridge held, although it remained a battlefield for much of the rest of the war.
Percy Weeks was a private serving with the Duke of Cornwall's Light Infantry, and is buried at Adanac Military Cemetery, Miraumont, Somme. He was 31 when he died.