Friends of Hastings Cemetery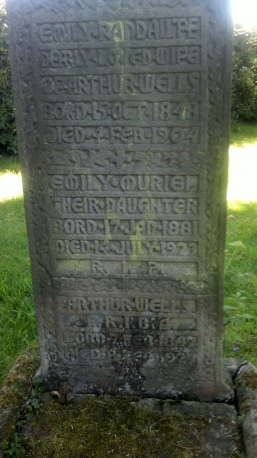 AG C14
Ivy covered - Joan, daughter of Arthur Wells, Died 12 August 1939 and her sister Edith Mary Wells Died 5th June 1956
AG C15
Emily Randall
Dearly beloved wife of Arthur Wells.
Born 15 October 1848
Died 4 February 1904
Emily Muriel
Their Daughter
Born 17 January 1881
Died 14 July 1923. R.I.P.
Arthur Wells
FRIBA
Born 7th February 1847
Died 8th February 1927
Arthur Wells was articled to John Hanvey of Dover from 1864 to 1867 and remained as assistant until 1869 when he commenced independent practice in Hastings. He worked in partnership with Alfred Cross from 1872 to 1882, and with his son A Randall Wells (born 1877) by 1907, having been elected FRIBA in 1889.
He had premises at:
25, Havelock Road, Hastings, - Private/business (?) Before 1883 / After 1889
Queen's Chambers, Harold Place, Hastings, - Business. Before 1894 / After 1900
1, Trinity Street, Hastings, - Private/business (?) Before 1907 / After 1910
25, Cornwallis Gardens, Hastings, Private/business(?) Before 1914 / After 1926
In the 1891 Census he and his family were living at Stockleigh Rd:
WELLS Arthur Head M M 44 Architect, Surveyor(Em'er) London - St Pancras
WELLS Emily Randall Wife M F 42 Kent - Canterbury
WELLS Nora E Dau - F 15 Scholar Hastings
WELLS Mabel C Dau - F 12 Scholar Hastings
WELLS Emily M Dau - F 10 Scholar Hastings
WELLS Florence S Dau - F 8 Scholar St Leonards
WELLS Ewart L Son - M 7 Scholar Bedford
WELLS Catherine H Dau - F 5 Scholar Bedford
WELLS Elsie J Dau - F 4 St Leonards
WELLS Lucy W Dau - F 2 St Leonards
WELLS Infant Son - M 1m St Leonards
SOUTHOUSE Elizabeth Servnt W F 47 Professional Monthly Nurse Battle
SMITH Ellen Servnt S F 19 Nurse Domestic Battle
GOLDSMITH Edith Servnt S F 18 Gen Servt Domestic St Leonards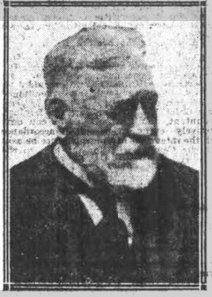 AN EXPERT ARCHITECT. DEATH of ARTHUR WELLS. GAIETY THEATRE DIRECTOR.
Saturday 12 February 1927 , Hastings and St Leonards Observer
The older generation of Hastings townsmen lost a well-known figure with the death on Tuesday, at 26 Cornwallis-Gardens, of Mr. Arthur Wells. F.R.I.B.A. an architect and surveyor, who planned several well-known buildings in the town. On the day before his death he celebrated his eightieth birthday. He was chairman of the Board of Directors of the Gaiety Theatre, of which he was also the architect, and had been director since the formation of the Company by Mr. George Gage.
Born in London, Mr. Wells came to Hastings years ago, and practised in partnership with the late Mr. Alfred Cross. In conjunction with Messrs. Jeffrey and Skiller, he and Mr. Cross were the architects of the White Rock Baths. Mr. Wells also designed
the sea wall behind which the baths were built and this has always been considered one of his most successful achievements, for it has been the only section of the wall to withstand consistently the onslaughts of the sea. The St. Helen's .secondary School and the Palace Hotel were planned and their erection supervised by Mr. Wells, who was in his prime thought highly of as an expert adviser and witness on architectural matters. Extensive improvements to Normanhurst, for the late Lord Brassey, and alterations to the Queen's and Victoria Hotels, were other noteworthy tasks undertaken by him.
In his early life an active member of Hastings Rowing Club, Mr. Wells took a keen interest in the athletic, social, and intellectual life of the town. He was once Master of the Derwent Lodge of Freemasons and a prominent member of the old School Board, before its supersession by the present Education Committee.
Mr. Wells married in 1872 Miss Emily Randall Wall, of Dover, who predeceased him in 1904. He leaves six daughters and one son, two sons having been killed in the war, one in Gallipoli and the other in France. One daughter. Miss Joan Wells, was awarded the Royal Red Cross for her war work as a nursing sister, in Mesopotamia.
The funeral took place yesterday, the first part the service being conducted at Holy Trinity Church. ................................ There was nothing mournful about the service, and one felt that those most dear to the departed gentleman were carrying out just what he would have wished. There was no mourning, and nearly all the flowers on the coffin wore coloured, a sheaf of dark red carnations and another of daffodils exceptionally noticeable. In his lifetime Mr. Wells was a lover of brightness and life, and it was therefore fitting that those who loved and respected him should honour his likings at the last.