Friends of Hastings Cemetery
William McNeill Whistler, Assistant Surgeon, 1st South Carolina Rifles, C.S.A.
WILLIAM MCNEILL WHISTLER, b. July 22, 1836, Lowell, Massachusetts; d. February 27, 1900, England.; m. (1) FLORIDA KING, WFT Est. 1852-1862; m. (2) HELEN IONIDES, April 17, 1877, St. George's, Hanover Square and at the Greek Church, London Wall
William McNeill Whistler was born 22 July 1836 in Lowell, Massachusetts. He married. 2) 17 April 1877, Helen "Nellie" Ionides, the daughter of Alexander Ionides.
William Whistler trained as a physician and graduated from the University of Philadelphia in 1860. He married Florida King of Virginia in 1860. She encouraged him to join the Confederacy as a medical army officer. She died childless in 1863. He joined the Confederacy and was attached to Orr's Rifles, a South Carolina regiment. After slipping through enemy lines, he arrived in England in 1865 delivering dispatches from the Confederacy. After the War he decided to stay in London. In April 1877 William married Helen Ionides. He became senior physician at the London Throat Hospital and was president of the British Laryngological, Rhinological and Otological Association. He had no children and died 27 February 1900. -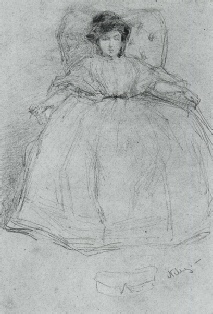 Nelly (Helen Ionides)
1866-69 (pencil on white paper) by Whistler, James Abbott McNeill (1834-1903); Freer Gallery of Art, Smithsonian Institution, USA; out of copyright
Helen Whistler, (nee Ionides) was a member of the Ionides family, wealthy Greek merchants of Tulse Hill. She became very close to James McNeill Whistler and at times modelled for the artist, drawings which seem to show her as a progressive, confident young woman, particularly in Nelly, in which she is shown smoking, another drawing, in which she is depicted sewing, is a more domestic image. She married William (as above) in 1877.
Her correspondence with her brother-in-law shows the depth of their affection and friendship.
She outlived both her husband and brother-in-law, dying on 6 January 1917, with her nephew Stephen Manuel by her bedside.
Fleming, James Abbott McNeill Whistler: A Life; Vose, Whistlers and Further Family; http://www.cfcwrt.com/norris2.html