Friends of Hastings Cemetery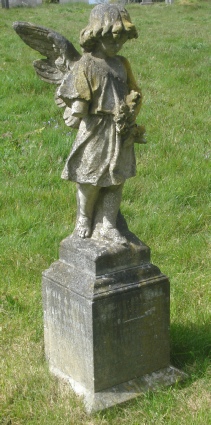 Alfred White was a captain in the Mercantile Marine. He was sailing his ship, the SS Strombus, from Colombo to London when he was struck down with typhoid fever and died on 5th July 1916. He is buried in the Military Cemetery at Suez.
He is remembered on the grave of Alfreda Lydia White, his youngest daughter who died aged 7. Also buried here is Lydia C. White, his wife.
Alfred White was the son of Charles White, a master mariner who was born in Rye c.1834 and his wife Esther Suzanna, who was born in Winchelsea c.1832. They had six surviving children, five sons, of whom Alfred was the middle one, born in 1872, in Deptford, and one daughter. The family moved fairly frequently as can be seen from the censuses and the places of birth of the children. Also Charles was often absent at the time of census. In 1881 the family were living in South Shields where the last two children Joseph (1874) and Edward (1876) were born. By 1891 the family had returned south and were living in Castle Street, Winchelsea, where the parents remained until he died in 1910 and she died in 1918.
Only Alfred appears to have followed his father to sea. His older brother Charles became a shipbroker's clerk, and the next son George was an engineering apprentice in 1881. By 1891 only Alfred's younger brothers, Joseph and Edward, together with their sister Fanny, were living at home. Joseph was a draper's assistant and Edward was still at school.
Alfred married his wife Lydia Clara [grave says A] in about 1897. She was born in 1871 in South Shields. In 1901 she was living next to her in-laws in Castle Street, Winchelsea and had a 2 year old daughter Ivy, who had been born there. She was 'living on her own means'. By 1911 the family had moved to 176 Edmund Road, Hastings and there were now three daughters, Ivy, Vera (born 1905 in Hastings) and Alfreda Lydia (born 1910 in Hastings).
CWG records reveal that the family requested a lengthier epitaph on his gravestone than was permitted under their rules, including a poem, but this can still be read on CWG documents, which also reveal how he died.

EM O12
'Darling Alfreda died 14th August 1917 aged 7.
Also in loving memory of Captain Alfred White MS father of the above
buried at Suez 1916 aged 44.'
Lydia A White
Wife of
Capt. A White
Died 22nd December 19
'Re-united'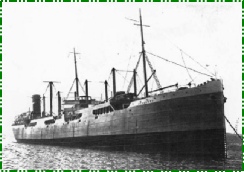 The SS Strombus was a steam ship build in the Armstrong Whitworth yard in 1900 for Shell. At the time of Alfred
White's captaincy the ship was owned by Anglo-Saxon Petroleum. In June 1918 she was attacked by UC20, a U-boat under the command of Heinrich Kukat, whilst en route from Marseilles to Port Said with a cargo including war materials. Two crewmen were killed. She was salvaged by HM trawler Retako, and obviously repaired because after a series of owners she was finally sunk by a mine in 1940 off the Mumbles in Wales when owned by a Norwegian company and operated as a whale factory. The ship beached but broke in two before she could be salvaged.