Friends of Hastings Cemetery

AS B29
Loving Memory of
Daniel Williams
Late of New South Wales and Queensland
Who departed this life May 9th 1884 at St Leonards on Sea
In the 57th year of his life
Also recorded on the other sides of the memorial are his sisters:
Caroline Williams. . Elder sister of Daniel -born Luton 27th Nov 1823.
Died aged 90 at Redhill, Surrey 11th Jan 1914
Cecilia Williams - younger sister of Daniel - born Luton 9th March 1829.
Died aged 90 in Kensington London 29th July 1919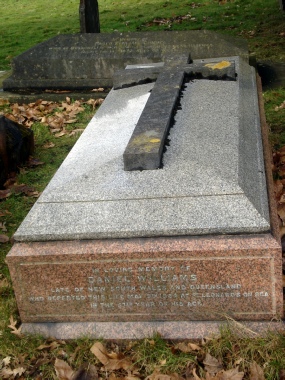 John Williams of Luton occupied the below mentioned lands…
John Williams made his will on 9 March 1847 by which he devised all his real estate to wife Caroline Williams and eldest son Evan Owen Williams in trust for sale.
Money arising should be regarded as part of his personal estate and be divided among his children, Evan Owen Williams, Caroline Williams, John Williams, Daniel Williams, Cecilia Williams, Alfred Williams, Mary Williams, Emma Williams and David Lewis Williams equally. Said son, E O Williams, and wife Caroline Williams appointed executors. He died in February 1850.
WILLIAMS, Daniel (1827-1884)
Born on 26 July 1827 at Luton, Bedfordshire, England, the fourth son of John Williams, builder, and his wife Caroline.

Emigrated to Australia in 1852 per "Coromandel". Married on 14 July 1854 at Geelong, Victoria to Eliza Myles.

Moved to New South Wales in 1861 and resided at Macleay Street, Sydney.

In May 1875 he purchased the Collingwood Paper Mill at Liverpool, N.S.W. from the Sydney Paper Making Company. At the same time he entered into partnership with George Murray to run the mill.

Returned to England in 1881 for health reasons. Died on 9 May 1884 at St. Leonards-on-Sea, Sussex, England.
Daniel's brother David was also resident in Queensland. Sadly, Daniel and David died within a few months of each other, bizarrely both in a place named St Leonards.