Friends of Hastings Cemetery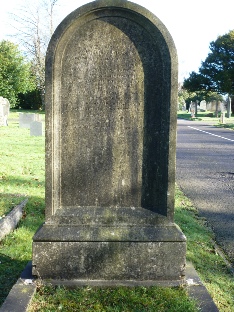 BD I01 - William Wills Esq.
To the memory of
William Wills Esq.
Formerly a solicitor at Birmingham
Who after a long and useful career
Marked by integrity, ability and success
Retired from practice
To spend the evening of his days
In the pursuit of
Studies in literature and philosophy
In which he delighted
But for which his active life
Had previously left him little leisure.
He was born at Birmingham
January 28th 1792
And died at St Leonards 1860
Little else has come to light about William Wills, other than that he was born in and lived in Egbaston for much of his working life, was a JP as well as a lawyer, had a wife called Sarah (neé Ridout) and three sons William, Alfred and Arthur.
William Ridout Wills from Birmingham is described in the Probate Records as a gentleman, Alfred Wills is a barrister of the Middle Temple and Arthur Winkler Wills from Wolverhampton is a manufacturing chemist.
In 1838 William wrote a book 'An Essay on the Principles of Circumstantial Evidence' which ran to at least three editions and is still a standard legal text. Later editions were edited by his son Alfred, later Sir Alfred Wills, the High Court Judge who presided over the trial of Oscar Wilde when he was found guilty of committing acts of gross indecency. Alfred married Lucy Martineau, daughter of a George Martineau, in 1856. (link with Hastings Martineaus?).
Also by William was "A paper on judiciary statistics, read at a meeting of the Birmingham literary and philosophical Society, on the 1st of July, 1839."
(Information on Sir Alfred Wills courtesy of Wikipedia)