Friends of Hastings Cemetery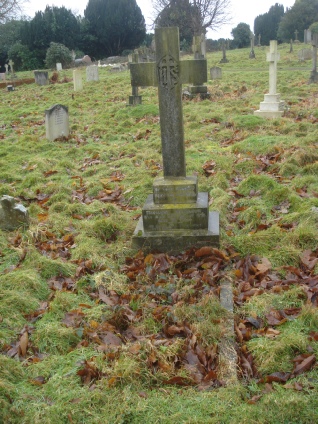 Of Your Charity
Pray for the soul
of
Marianne Winebloom
Who died 23rd August 1935
Aged 68 Years
"On whose soul, sweet Jesus, have mercy"
Also of James Loan Winebloom
Beloved Husband of the above
Who died December 1936
Aged 70
Also
Edward St Clair
Winebloom
Their Dearly Beloved Son
Who died of wounds
At
Wimereux
29th April 1917. Aged 21 years
'In Arduis Fideles'
The Winebloom family came from Leeds. James was born there in 1866, and Mary Anne (nee Smith) in 1867 in Wakefield. They married in 1894 and had two children, Edward who was born in Leeds in 1895 and Kathleen Mary who was born in 1901. In 1891 James was a post office sorting clerk and by 1911 he had risen to be assistant supervisor in Leeds Post Office. They must have moved to Hastings sometime after the war, as the CWGC entry gives their address as originally of 21 Beechwood Terrace, Leeds, then of 32 Gordon Terrace, Scarborough. They had lived in Beechwood Terrace since before 1901.
Mary Anne (it says Marianne on the stone) died on 23rd August 1935, at the age of 68 and James in December 1936 aged 70.
Edward was a gunner with the Royal Field Artillery 'B' Battery 310th Brigade. He is buried in Wimereux Communal Cemetery. The legend on his grave is 'In Arduis Fideles'. Before he joined the army he was an office boy at the National Telephone Company.