22nd December 1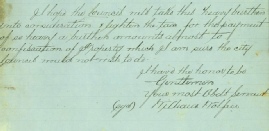 873 - Letter: William Wolfen, to Mayor. Complaint that he waited all day at Quarter Sessions Court to appeal against rates assessment. Appends copies of letters listing his various rates. Owns 2 premises at 21 & 23 Bridge St. https://archives.cityofsydney.nsw.gov.au/nodes/view/1085421
William Alexander Wolfen, of Bridge-street, Sydney, in the Colony of New South Wales, trading under the name, style, and firm of "William Wolfen and Company," – 22 January 1875
Mr. William Wolfen, who for the past 20 years has held the office of consul for Sweden and Norway in Sydney, received an intimation by the last mail that in recognition of his valuable services, the King of Sweden and Norway had raised him to the rank of Chevalier, with the order of Vasa. – 1st February 1882.
__________________________________________________________________
In 1900 William married Amy Louisa Harrison. In the 1901 census they are living at Warrior Square Terrace on his own means.
William Wolfen Head M 73 German Nat B Subject
Amy L Wolfen Wife F 51 London
Sarah E Woodhill Servant F 53 Llanwarne, Herefordshire
Emily Jeffrey Servant F 45 Peckham, London
Thursa E Munn Servant F 30 Ninfield, Sussex
Mary H Waite Servant F 18 Orchup, Herefordshire
Ellen Luck Servant F 16 Hastings, Sussex
Felix F Foord Servant M 16 Hastings, Sussex
DEATH OF CHEVALIER WOLFEN. : A DISTINGUISHED RESIDENT.
Hastings and St Leonards Observer - Saturday 8th February 1902
We to regret announce the death of Wm. Wolfen, Chevalier de L'Ordre Royal de Wasa, which took place at midnight on Saturday at his residence, 6, Warrior Square-terrace. St. Leonards. The Chevalier had been in weak health for some years past. He came to St. Leonards about the year 1886, residing first at Royal-terrace, and afterwards at Warrior-square-terrace. He was of a very kind and sympathetic disposition, and was highly esteemed by all who knew him. Owing to his health, Chevalier Wolfen had taken comparatively little part in public life since his residence in our town.
The Order of which he was Chevalier was presented to him by the King of Sweden, for whom he was Consul at Sydney. While there, years ago, he took part in a thrilling scene, being the first to seize the man who shot at and wounded the Duke Edinburgh, afterwards Duke of Saxe-Coburg. The Chevalier was standing near the Duke when the man rushed out from the crowd and. holding up his hand, fired. In 1895 the Chevalier published a pamphlet "The Function of Gold in relation to the Price of Commodities."
A German by nationality, Wolfen was born on February 4th 1828 and lived for come years in England before going to Sydney in 1852. He has relations still living in Germany, where his nephews hold important posts. Chevalier Wolfen married, secondly, Amy, daughter of Mr. Crawford Harrison, late of the Admiralty, who survives him. and for whom much sympathy will be felt in her loss. The funeral takes place to-day .........
Hastings and St Leonards Observer
-
Saturday 22 February 1902
THE LATE CHEVALIER WOLFEN.
…………. Wreaths, which were handsome, were not very numerous, owing to knowledge of many of his friends that in his life time the scent of flowers indoors tried him, but among the. few were two from his Germany relations entirely of white flowers, and very large, one of Neapolitan violets from Mr. George and family, and one of choice flowers from his servants, with the inscription: "To kind master, with deep sympathy.' Others from kind friends were tenderly laid on his coffin. '
Hastings and St Leonards Observer
-
Saturday 19 April 1902
Order of the Executors of the Chevalier William Wolfen, deceased. ST. LEONARDS-ON-SEA. Important Sale ……. FREEHOLD
MARINE RESIDENCE, No. 27, EVERSFIELD PLACE, occupying one the choicest positions the Sea front, and admirably adapted for first-class lodging-house (for which purpose it has been used for many years), or for a private residence. The Property is let upon full repairing lease at the rent of £180, rising to £200, per annum.
Also No. 6. WARRIOR SQUARE TERRACE, being the centre of this fine terrace, with south aspect overlooking, and with private entrance to the ornamental gardens of Warrior Square, and commanding splendid views of the sea. The accommodation comprises: —| Twelve bed and dressing-rooms, bathroom, handsome double drawing-room, noble dining-room, library, morning-room, two staircases, lift, and ample domestic offices for large establishment. It is in an excellent state of decorative repair, with modern sanitary arrangements, und is unusually well fitted throughout with every convenience.
NEXT