Friends of Hastings Cemetery
Charles Alderton was born in Battle in about 1813. He married Constantia Worsfold in Dover in 1841 and is recorded living in the St Mary's district of Dover in the 1841 Census. His three children were born in Dover, but the 1851 census, when the youngest child was two, shows the family had moved to Hastings.
Charles Alderton's ironworks was based at 70 George Street, and he and his family lived there.
Alderton & Shrewsbury, ironmongers, ironfounders, smiths, bellhangers, gas fitters, braziers, tinplate workers, stove & range manufacturers & bar iron merchants, 69 & 70 George street, & 1B, Robertson street
In the Official catalogue of the Great exhibition of the works of industry of all nations, 1851 is listed:
403. Alderton & Shrewsbury, Hastings, Design and Manufacture - Open fire hot-air stove, made from iron ore obtained and smelted in Sussex.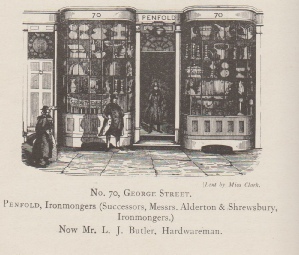 In the 1861 and 1871 Censuses Charles' occupation is given as ironmonger and founder, and employer of around 40 men and boys. His sons Edward and Robert followed him into the business. Alderton and Shrewsbury bid for and won many local contracts, including the supply of ironwork to repair groynes (1851-2), to renovate iron posts and
railings along Eversfield Parade (1861), and to install the heating system in the renovated All Saints Church (1870).
When Robertson Street was developed as a shopping street in the 1850s on part of what had been the America Ground, Charles Alderton and his partner Abraham Shrewsbury opened an ironmonger's business at 1b Robertson Street, which
remained there from 1855 to 1881.
Alderton's first wife Constantia died in 1862 at the age of 48, and in 1879 Charles married Sarah Anne Clarke, who had been a governess living with the family. By 1881 the couple had moved to a property in Dudley Road, Clive Vale, but the firm was still in existence, employing thirty men and eight boys.
Charles Alderton died on the 28th May 1885 age 72. Sarah Anne Alderton lived on until 1922 when she died at the age of 83. Alderton's three children are recorded on the gravestone. The oldest, Edward, died in 1870, aged 27, Charles' daughter Emily Jane died in 1925 aged 77, and Robert Sibson Alderton died in Auckland, New Zealand in 1909 aged 65, and is buried there.
Sources