Friends of Hastings Cemetery

Hugh Hamilton Arbuthnott, Second Lieutenant: 67th Punjabis, Indian Army. Age 21.
Born 1894 in Shillong, Assam, India. Son of John Campbell Arbuthnott and of Jeannie Sinclair (Hamilton) Arbuthnott of Kilquhanty, Kirkpatrick-Durham.
Educated at Haileybury College, near Hertford, founded by the East India Company in 1806
Commissioned from Sandhurst RMC in July 1914.
Twice wounded during the defence of Kut.
"Conditions during the siege were appalling. In bitterly cold weather and with little medical treatment, many of the soldiers did not survive the winter. Several attempts were made to relieve the besieged town, but they encountered stubborn Turkish resistance and all ended in failure."
"Captured British and Indian soldiers were brutally treated on their march to Turkish prisoner-of-war camps in Anatolia. Of the 11,800 men who left Kut-al-Amara with their captors on 6 May 1916, 4,250 died either on their way to captivity or in the camps that awaited them at the journey's end."
Died of Wounds received in action 28 December 1915 and buried in Kut War Cemetery, Iraq.
Commonwealth War Grave Commission - Whilst the current climate of political instability persists it is not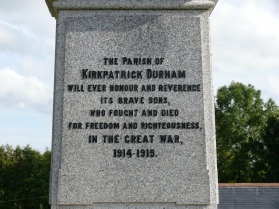 possible for the Commission to manage or maintain its cemeteries and memorials located within Iraq.
Alternative arrangements for commemoration have therefore been implemented and a two volume Roll of Honour listing all casualties buried and commemorated in Iraq has been produced. These volumes are on display at the Commission's Head Office in Maidenhead and are available for the public to view.
The tragedy of Kut - The Guardian , Wednesday 20 November 2002
Military headstones have started arriving in Iraq from Britain. Not in preparation for an invasion but to commemorate allied soldiers who died in a previous attempt at 'regime change'.
http://www.theguardian.com/world/2002/nov/20/iraq.features11