Friends of Hastings Cemetery

DG A204
In
Loving memory of
The Rev.
William Batley.
Born March 12, 1836,
Died November 13 1909
"Looking unto Jesus, the author
and perfector of our faith"
"The eternal God is thy dwelling
place, and underneath are the
everlasting arms."
Also of his wife
Catherine Anna
Cockburn Batley
Born March 12 1842
Died November 24, 192
"Greatly beloved.
"My trust is in the tender mercy
of God, forever and ever."
Also of their children
Dorothea Sibella Batley
Died in India 1943
Catherine Georgina Mary
Batley
Died at Guildford 1955
Algernon George Batley
Died at Caterham 1963.
James Yorke Batley
Died Hastings 1971
THE LATE REV. WILLIAM BATLEY.-AN APPRECIATION.
…He was evidently, by his life and work and conversation, one of those humble-hearted followers of the Lord kept in the attitude of "waiting for His Son from Heaven." One who knew him in the early seventies at St. David's, Holloway, where he was your fellow-labourer in the ministry, writes:- "His unostentatious bearing and deep humility were then very conspicuous.
Extracted from http://www.gospelmagazine.org.uk/january1910.pdf
HASTINGS, Nov. 27th, 1909. DEAR MISS COWELL,-My mother suggests ·that I should add a few lines to her letter to you. My dear father always shrank very much from any sort of publicity, and I feel almost incapable of writing anything about his last days which might afterwards be published. He was only ill for about a week, though he had been in failing health for some years. The fatal termination to his illness was unexpected both to us and, I think, to himself, but I had often heard him remark that God's people, when safely landed out of this sorrowful world, do not wish themselves back, and we feel this to be peculiarly true in his own case. He craved much for rest during his illness, though he was always wonderfully acquiescent in the will of God, and often spoke gratefully of His many mercies, he was most considerate for those about him, and anxious not to give trouble of any kind, and he habitually made little of his own sufferings and discomforts, but it is sweet to us to know that he has reached a land where sorrow and pain and anxiety cannot touch him, arid where the weary are at rest. He used to quote - yours sincerely, D. SIBELLA BATLEY
"The Rev. William Batley, formerly curate of Folkestone, and of Troubridge. £109.288.
"So it appears that all curates are not poor." - Free Lance, Volume X, Issue 505, 5 March 1910, Page 4
TOPLADY MEMORIAL SCRIPTURE PRIZES. Rev. William Batley, M,A., presented £210 to the Board in Trinity Term, 1906, to form an endowment for a Prize in memory of Rev. Augustus Montague Toplady, Hymn -writer and Theologian. The Prizes are given for knowledge of Holy Scripture (as distinct from general theological knowledge). No book except the Bible (or Greek Testament) may be given as a Prize in connexion with this endowment which contains, in the opinion of those appointed to control the selection of the prize books, direct theological teaching. The Prize, amounting to about £6 os., is awarded annually to the Candidate next in merit to the Prizeman at the examination for the Carson Biblical Prize.
The Reverend William Batley Almshouse Charity's charitable objectives: Almshouses for respectable and deserving persons (whether aged or infirm or otherwise) inhabitants of the parish of Fairlight. To provide money for the repair, maintenance and upkeep of almshouses or for additions or amendments thereto. To augment the income of the charity, but primarily for repair and upkeep of buildings.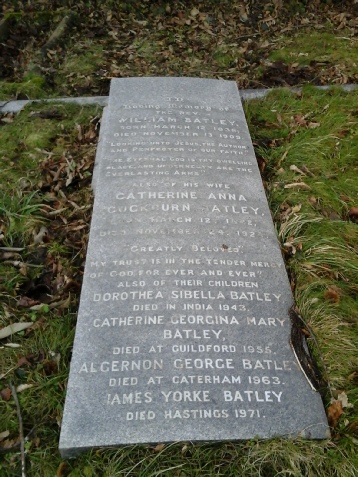 They married 20 April 1871 and lived at Fern Bank, Old London Road. William was 78 when he died, and Catherine was 86.
The 1891 census shows:
William Batley (53, Male)
Catherine Anna Cockburne Batley (49, Female)
Catherine Georgiani Batley (16, Female)
William Yorke Batley (15, Male)
Dorothea Isbella Batley (12, Female)
James Yorke Batley (10, Male)