Friends
Of
Hastings
Cemetery
Susannah Rickman Beck was born on 10 Sep 1861 in Dorking, Surrey, and died on 18 Jun 1891 in Hastings aged 29. She is buried at BJ F12.
She was educated in Minneapolis, Minnesota, USA. When living with her parents in Minneapolis. She was a student at the Royal Free Hospital in London, gaining experience that would assist her with Missionary work. Following a further period of religious study, she became ill and died.
Hastings and St Leonards Observer - Saturday 20 June 1891
Beck.—June 18th, very suddenly, at Stamford Hill, London, Susanna Bickman, daughter of Samuel Beck, 37, Elphinstone-road. Hastings, aged years (late student at the Boyal Free Hospital, London, preparing for missionary work in India). The interment will take place at Ore Cemetery, Tuesday next. June 23rd, at 3 30
Death of Miss S. R. Beck—Many of our readers will, we feel sure, read with regret of the death of Miss Susanna Rickman Beck, daughter of Mr. Samuel Beck, of 37, Elphinstone-road, Hastings, and sister of Mr. W. E. Beck, of the Y.M.C.A., which took place suddenly at Stamford Hill, London, on Thursday last, under peculiarly painful circumstances. The deceased lady retired on the evening of the 17th apparently well, though suffering from weakness and prostration, the after effects of an attack of influenza. When called the following morning she was thought sleeping, but it was afterwards discovered that death had taken place.
In Loving Remembrance
of
Agnes Rickman Beck
(of Hastings)
Eldest daughter of
Henry and Eliza Beck
Who fell asleep in Jesus
The 27th of 1st month 1895
Aged 37 years.
____________
Her chosen text
JESUS ONLY
Though I walk thro the valley
of the shadow of death I will
fear no evil, for though art with me.
Psalm XXIII, 4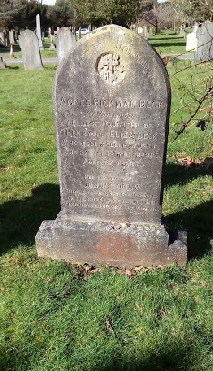 BJ H12
Agnes Rickman Beck was the granddaughter of Samuel Beck. His son Henry Beck married Eliza Verrall. Eliza was born on 12th December 1836, and died on 10th March 1907.
Agnes was born on 10th May 1857, and died on 27th June 1895.