Somewhere around this area are the graves of Samuel Beck, who was buried at BJ G11. Nearby, at BJ F12, is his daughter, Susannah and at BJ H12, a granddaughter, Agnes. (See NEXT)
Also buried at BJ F12 is Lucy Swan Bisshopp, [sometimes Bishopp] who died aged 64, on the 11th November 1889 and was buried on the 15/11/1889
Samuel Beck was born on 23 Feb 1830 in London. He died on 9 August 1913 at 7, Quarry Crescent, Hastings.
He worked as an upholsterer in Saffron Walden, Essex. He worked as a Cabinet maker in Dorking, Surrey. He worked as a Quaker minister. From 1872 to 1880 he was living in Minneapolis, Minnesota, USA.
He was living in 1886 in Hastings
1890 - living at 37 Elphinstone Road
1900 - SAMUEL BECK. Treasurer, 122, Mount Pleasant-road
Samuel married Ellen Rowland Bishopp, the daughter of Edward Swan Bishopp and Mary Tamplin, on 1 Jan 1858. Ellen was born on 29 Oct 1827 in Ifield, Crawley, Sussex and died on 11th July 1888 in Hastings. They had six children: Mary Ellen, Thomas Edward, Susannah Rickman, William Ernest, Arthur Rowland and Elizabeth Lucy.
In March 1892 a report in the Observer said "Mr. Samuel Beck, some years ago, started the Orient Gospel Mission at Halton, and it has done most useful work amongst the poor. Since this gentleman went to America ..."
MISSIONARY LECTURE HALTON. —On Wednesday evening, in the Friends' Mission Hall. Halton, a lecture was given by Mr. Samuel Beck, describing his six years travel in America as a missionary. Samuel left Hastings again in 1903
THE PRISONER'S FRIEND. THE LATE MR. SAMUEL BECK.
Hastings and St Leonards Observer - Saturday 16 August 1913
A well-known personality has disappeared from Hastings by the death of Mr. Samuel Beck, at his residence at 7, Quarry-crescent, last Saturday, at an advanced age. Mr. Beck, who was a member of an old and respected Quaker family, was the son of the late Mr. Thomas Beck, of Saffron Walden. Essex, and was born in London. Mr. Beck came to reside in Hastings some twenty-five years ago, and in spite of uncertain health, to which he had long been subjected, he entered with zeal into religious and philanthropic work, in which he continued to evince an active interest almost to the close.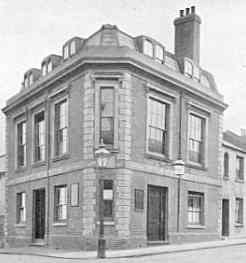 Mr. Beck, who was a minister in the Society of Friends, will be principally remembered as the founder of the Friends' Mission Halton, (to the left) and, largely by his own personal exertions, was instrumental in erecting the Mission buildings in to which was added later a schoolroom for the use of the Adult School. With the various organisations connected with the Mission he displayed an absorbing interest, and was treasurer until within a year his death.
His work in connection with The Hastings Lock-Up was long continued, and he regularly visited the prisoners on Sunday mornings, and was instrumental in introducing the Bible for their use. He also devoted a large portion of his time to visiting the poor, the sick and afflicted, by whom he was much beloved and respected, and in book and tract distribution. In the work of Peace and Temperance he was deeply interested, and, amongst other movements, in Dr. Dixon's labours amongst the Jews of the East End of London. On more than one occasion he travelled in the United States upon religious service, and this afforded him great interest in after years. In the work the District Free Church Council Mr. Beck was much interested, and of this he was a member.
Much more might said of Mr. Beck's strenuous labours for the glory of God and the uplifting of his fellow men, but a striking characteristic was his deep humility, and he was one of those who did not let his left hand know what his right hand did, and he would deprecate any fulsome account of his service, attributing what he was able to accomplish to the grace God.
The funeral took place the Hastings Borough Cemetery Wednesday, "where the large company which assembled at the grave testified to the respect in which he was held. A number of the Halton Mission workers, with whom he had closely associated, was present, and some of them carried him to the grave. The funeral arrangements were ably carried out by Messrs. Bryant and' Sons, Queen's-road, Hastings.

Hastings and St Leonards Observer, Saturday 27 September 1913
MR. SAMUEL BECK. Mr Samuel Berk, of 7, Quarry-crescent. Hastings, whose death occurred on the 9th August, left an estate of the gross value of £1,500 2s. 9d. with net personally £1,441 9s. Id. Mr. William Ernest Beck, of 60. Rorkingham road, Ketteringe. Northampton, watchmaker, his son, and Miss Elizabeth Lucy Beck, 7, Quarry-crescent, his daughter, are the executors.