Friends of Hastings Cemetery
In correspondence on G H Borrow's Lavengro, Whistler makes a comment referring to "his brother William, who became a painter".
The reference is cited as Borrow, W H - so Whistler was confused (George only had one brother, John)
Another oblique Hastings link to George - SULLIVAN, Edmund Joseph, 1869-1933 Artist, former student of Hastings School of Art. son of Michael Sullivan, attended Grammar School, studied under his father at School of Art, ................. .being commissioned by Macmillan to illustrate George Borrow's Lavengro, soon after his marriage to Frances Louise Williams (1894), he 'went down to Hastings to make studies of gipsies and their surroundings'; book published 1896, contained 45 small line drawings, 'the first important book he illustrated'
A John Borrow was best man at Jethro's (Lydia's Father) wedding - but which one?
Lydia, of 117 High Street, is recorded as speaking of George as a cousin, but as far as can be definitively traced, they shared a Great Great-grandfather, or even a Great x 3!
"Family documents and reminiscences have been contributed by Mr. W. H. Borrow" from
George Borrow - The Man and His Work by R. A. J. Walling
Family table for Borrows with Hastings Connections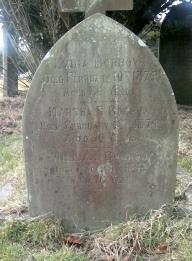 Lydia Borrow
Died February 10th 1874
Aged 84 Years
________
Martha S Borrow
Died February 13th 1874
Aged 80 Years
______
William Borrow
Died March 1st 1876
Aged 76 Years
Lydia Borrow – ran a small private school at 117 High St, where she lived 1837-74 with her younger sister Martha. Pupils included John Granville Harkness, later a distinguished soldier. The school was variously recorded in directories as 'Preparatory School for Gents', some time 1817-41; Preparatory Boarding School, 1851. 'Lydia Burrows'[sic] Preparatory School, 1839. 'Misses Borrow's Preparatory School, 1854.
Preparatory school for gents: Miss Lydia Borrow, 117 High street
"Lydia and her sister Martha ran this highly-regarded school from 1837 to 1874"
There is a death recorded in Hastings in 1847 for Jethro Borrow – presumably her father.
The next record is the death of Ada, William Henry's sister, who was born in Middlesex in 1845 and died in 1858.