Friends of Hastings Cemetery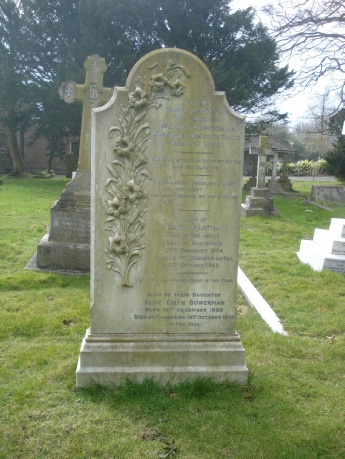 In ever
sacred memory of
my husband
William Bowerman
Who passed from death to life
May 3rd 1895.
"Through the gate of death we enter
Life everlasting."
"Peace, perfect peace, with loved ones far away?
In Jesus' keeping we are safe,
and they."
Also of Edith Martha
Wife of the above
Born at Badingham
27th February 1864
Died at St Leonards-on-Sea
8th October 1953
I will give you assured peace in this place
Also of their daughter
Elsie Edith Bowerman
Born 18th December 1889
Died at Copwbeech 18th October 1973
In Fide Vade
William Bowerman was born 30th August 1831 in Bicester. In 1865 he married his first wife Emma Smith. In 1881 they were living in St Leonards, William running a drapery business. Emma died in 1888. William was a town Councillor from 1885-88
Edith Martha was born on the 27th February 1864 in Baddingham, Suffolk, the daughter of Chase Barber (a draper) and his wife Eliza. The family later moved to Sinnock Cottage in Hastings Old Town.
Edith worked as a draper's assistant for William Bowerman.
Edith and William were married and on the 18th December 1889 their daughter Elsie was born.
William sold the shops and from 1890 lived in comfortable retirement at 145 London Road.
When William died on the 3rd May 1895, aged 70 he left his wife and daughter several rental properties in Hastings, which provided an income for them. A plaque in memory of William Bowerman was erected by Edith at St Matthews Church, St Leonards.
In about 1907 Edith married Alfred Benjamin Chibnall, a farmer. Edith and Alfred in the village of Thakeham in West Sussex. But the marriage seems to have failed and by 1912 Edith was living with her daughter Elsie at 145 London Road, St Leonards.