Friends of Hastings Cemetery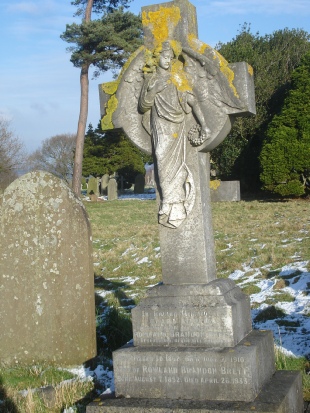 EE N23
In Loving Memory of
Clara Amelia
The devoted wife and companion of
Rowland Brandon Brett
of Takapuna, Herne Hill, London
Born March 30 1852. Died June 21st 1910.
Also of Rowland Brandon Brett,
Born August 7th 1852. Died April 26th 1933.
Born Hastings in 1852, as was his wife, Clara Amelia McConkey. Son of Thomas and Celia Brett
In 1871 he was living at home, aged 18 and working as a compositor.
He and Clara were married Hastings in 1875.
They had at least one son, Rowland William Brandon, born in Islington in 1876, who in 1901 was a stationer living with his grandfather in St Leonards.
He worked as London Manager of the New Zealand Press Agency. (Hence the name of their house in Herne Hill, Takapuna, the name of the town where his cousin, a leading New Zealand journalist, Sir Henry Brett, lived.)