Friends of Hastings Cemetery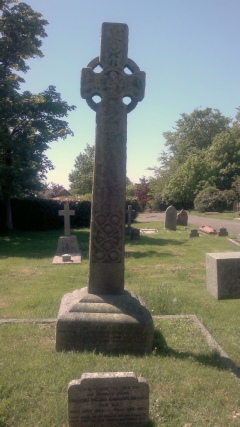 AG B05
William Charleston Bullock
Rector of Ore, 1897 - 1929
Died 6th January 1929
Called to higher service
Helen Janetta Bullock
Born 16th February 1861
Died 23rd November 1952
Wife of the Above
William Charleston Bullock s born 1867, second son of Rev. Charles Bullock
He was a Cambridge graduate (Corpus Christi & Ridley Hall), BA 1889, MA 1893 where he was captain of college tennis team;
He was ordained priest in 1891, became assistant curate at Pembury 1891-4
All Saints, Eastbourne 1894-7;
Rector of Ore, 1897-1929
He married in 1901 at St Mary Magdalen church Miss Helen Janetta Bagshawe, had one child, later Rev. F.W.B.Bullock
He was a keen Alpine climber, and at Ore cycled when visiting parishioners
He introduced the Watchnight service on New Year's Day (200 at the 1898 service)
He achieved various improvements in furnishings, structure & churchyard
Dedicated two silver chalices at St Helens church in memory of his father, Rev. Charles Bullock.
He didn't have a full-time assistant curate, but drew on services of Rev. G.R. Godfrey and other locally resident clergy when required, through his illness.
Hastings and St Leonards Observer - Saturday 12 January 1929
A Beloved Rector
Death of Rev. W. C. Bullock
St Helens
Much regret has been felt at Ore and throughout the Borough generally by the somewhat sudden death of the Rev. C. C. Bullock, rector of the Parish Church of Ore, generally known as St Helens. He died as he would have wished, in harness, on Sunday evening. In the morning he took the eight o'clock service and intended preaching at the qq o'clock service, but not feeling well went home, and in the evening he passed away.
He was much beloved for his sympathetic and kindly manner.
William Charleston Bullock was M.A. Cambridge, was ordained in 1890, and became a priest a year later. His first curacy was at Pembury, near Tunbridge Wells, and he was there from 1891 to 1894, and then at All Saint's, Eastbourne, coming from thence to Ore, where he stayed for over 31 years. He was always a strong evangelical. In 1901 he married Miss Bagshawe, daughter of the late Dr. Bagshawe and Mrs. Bagshawe...................
Besides the widow, there is left a son Rev. Frederick Bullock , who is a curate at St. Albans. One of the late rector's special cares was the ruins of the old church, where he frequently held services in the open air in summer, and he had done much to place the surroundings in good order.
A memorial service was held, and is reported in

Hastings and St Leonards Observer Saturday 19 January 1929
His death took place a few weeks after the ordination of his son Rev. F. W. B. Bullock, who was unable to attend the funeral due to illness.
The funeral service was at St Helens, followed by burial at the borough cemetery. Two windows were given in his memory, dedicated by Canon Battersby Harford in 1930, made by James Powell & Sons