Friends
Of
Hastings
Cemetery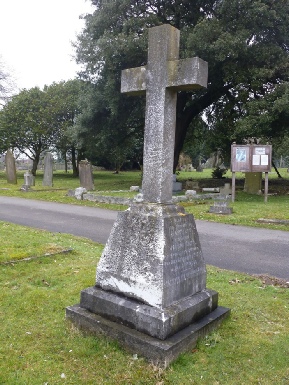 AP A28
Joseph and Harriett Catt
Jack (Joseph) Bertram Catt
Joseph and Harriet Catt, were local people. Originally from Westfield, Joseph became a stone mason and by 1871 was a builder employing 6 men.
He had married Harriet Vidler, a dressmaker, in 1862.
He is listed ion directories as:
Stonemason, St Andrews Rd, 1867

Builder, no.143 St Andrews Rd, 1874

Builder living at Saxonhurst, St Helens Road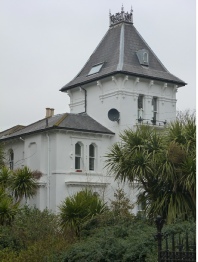 Saxonhurst is the large house at the entrance to Alexandra Park, which he built in 1870, and where he lived with his wife Harriet and six daughters (and one servant) and was listed as a master builder employing 6 men and 2 boys.
His only son Joseph (born 1868) was at school in Eastbourne at the time. Joseph Senior died in 1883 at the age of 48 and his wife and family continued to live at Saxonhurst. Harriet was living alone there with one servant in 1911. She died in 1923.
A stained glass window at the east end of the south wall of Blacklands church was erected in his memory in 1883.
Letter from Joseph Catt, St Andrew's Road, [St Leonards] to [George]
Meadows, [town clerk,] stating that he has had 21 houses flooded causing damage to the goods of nearly 30 tenants, asks for help from the fund for the 10 really deserving cases dhbh/DH/B/161/33 22Nov 1875 NEXT