Friends of Hastings Cemetery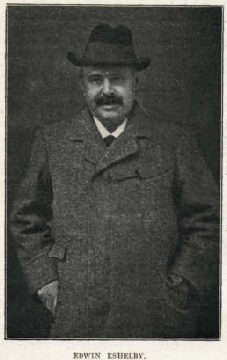 Mr Edwin Eshelby (born Upton St. Leonards, Gloucester, England, 13th February 1852; died 1912) began his apprenticeship at the then well-established firm of Hale and Co in 1865.
Five years later, aged eighteen, he undertook the voyage to New York, America, where - according to an article from the Music Trade Review - on his second day on the continent he applied for work as a tuner at the firm of Steinway and Sons. This request was granted on his third day of his stay. He built up a good reputation at the firm until in 1877, he returned to his homeland, where he continued his work with Steinways. Ten years later, he was appointed the manager of the London House of Steinway and Sons, Lower Seymour Street West. (http://www.eshelbypianos.com)
His wife's name was Margaret. She was born in Sheffield but three of his children were born in New York State (including Eva Emma who died at the age of 16 and is buried nearby).
Steinway Hall (which is mentioned on the stone) is the name of the building housing concert halls, showrooms and sales departments for Steinway and Sons Pianos. The London Steinway Hall opened in 1875 and was the first in Europe.
"He was very successful in selling Steinway pianos to royalty. Nearly everyone of the reigning family in Great Britain had these instruments.……………
Mr. Eshelby leaves a widow, one son, a member of the London staff, and two daughters. Chas. H. Steinway, who is now in Munich, Germany, will, in company with his family, journey to London and be present at Mr. Eshelby's funeral.." (From Obituary from The Music Trade Review)