Friends
Of
Hastings
Cemetery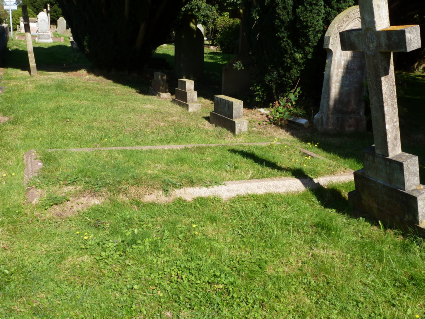 Mary Jane Lear

James William Ranger

Thomas Alexander Moor

Eva Emma Eshelby
This double grave edged with a pink granite kerb seemed curious because it contains the remains of four apparently unrelated individuals. However research has revealed that two were aunt and nephew, another possibly married the widow of the nephew, but the fourth's presence has not been explained (although her parents were later buried in the plot next to the cross in the foreground, despite not coming from Hastings).
One occupant is Mary Jane Lear, who was born in Bloomsbury and in the 1891 Census is listed as living on her own means at the Star Hotel, 18 Undercliff, St Leonards with her nephew James William Ranger (another occupant of the grave) whose occupation is Licensed Victualler. His wife Emma is also resident. When he died in 1898 his estate was valued at £480 7s 9d.
The third occupant is Thomas Alexander Moor who was born in London and is listed in the 1881 Census as living at 6 Elphinstone Terrace with his father. His occupation is 'Fancy Dealer'. In the 1891 Census he was living with his mother and siblings at 3 Belgrave Terrace and his occupation was toy shop manager. When he died aged 46 in 1905 he was living at 111 Edmund Rd and left his estate of £114 3s 8d to his wife Emma. (Was she the widow of James William Ranger, which might account for his presence in the grave? They would have been of a similar age.)
Finally Eva Emma Eshelby who was the daughter of Edwin Eshelby (which see) He and his wife are buried nearby and Eva is also recorded on that gravestone although it was presumably erected 22 years after her death. She was born in New York State. She was only 16 when she died.