Friends
Of
Hastings
Cemetery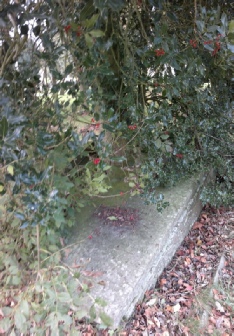 AH D25 Ewbank, Emma Jane aged 39
Emma Jane Ewbank
widow of Rev W W of Adelaide SA,
who died at St Leonards 17/2/1882
------------------------------------

In loving memory of Charles Augustus Ewbank
who went home, July 1 1895 aged 29.
Buried at sea

Till he come
He asked life of thee and thou gavest it
Even length of days forever and ever
Emma Jane Jackson Woodcock was born 1844 at Kendal, Westmoreland, the daughter of Archdeacon William John Woodcock b. 3 Nov 1808, d. 25 May
She married William Withers Ewbank on 1 May 1862 at Christchurch, North Adelaide, South Australia.
She died on 19 February 1882 at 144 Marina, Hastings England . (Where she was living with her son Arthur, and her widowed mother, Mary.)
Rev. Charles Augustus EWBANK was born on 27 November 1865 at Blakistan, South Australia.
He married Margaret Josephine ROUTH in 1893 at Marylebone, England. He died on 1 July 1895 at sea at age 29. The couple left England in June 1895 on the "Ruahine" en route to South Australia. The ship was bound for Tasmania)
Arrival of the Ruahine, Wellington August 12th, 1895
At 5.30 to-night the Ruahine arrived from London. which port she left on the 28th June. ..............… Her passage was uneventful but two deaths occurred from advanced consumption [TB] The deaths reported were those of the Rev. Ewbank and Miss Abercrombie, both bound for Adelaide.