Friends of Hastings Cemetery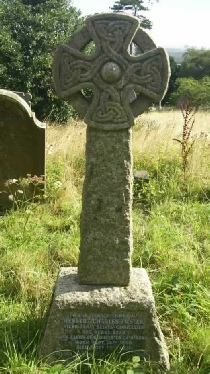 EO K07
The Reverend Charles Foster, Vicar of All Saints, Gloucester and Rural Dean,
Hon. Canon of Gloucester Cathedral 1846-1926
Edith Susan his wife 1860-1934
Herbert Knollys Foster their only son fell near Ypres October 1914 aged 19
The Reverend Charles Foster TD began his clerical career in Gloucester, although he had been born in Worthing on September 14th 1846. In 1881 he was the curate of All Saints but was not yet married and was living in lodgings. He married Susan Shuttleworth Sutton in 1890. His two children Katherine Lettice and Herbert Knollys were born in 1893 and 1895 respectively.
He left Gloucester in 1910 and became Vicar of St Thomas the Apostle in Groombridge in East Sussex, a post he held until at least 1917. He later came to live in Hastings at 16 Clinton Crescent and died on 13th November 1926.
Hastings and St Leonards Observer - Saturday 20 November 1926
A BELOVED PRIEST, DEATH OF CANON FOSTER AT ST. LEONARDS.
St. John's Church, St. Leonards, loses a friend by the death Saturday of the Rev. Herbert . Charles Foster, Hon. Canon of Gloucester Cathedral, who has lived in St. Leonards since his retirement in 1917. Aged 80. Canon Foster passed the greater part of his ordained life at Gloucester, where he is remembered with the greatest affection and respect. For many years he was Vicar All Saints'. Gloucester, and Rural Dean; later he was Vicar of St. Thomas, Groom bridge. In Gloucester he commanded particular honour for his work during the great small-pox epidemic of 1895-96. when he volunteered his services, and took sole charge of the Isolation Hospital. For many years he was chaplain to the Gloucester Territorials, and Chairman of the School Board.
Since his residence in St. Leonards, at 29. West-hill, he has taken frequent services at St. John's Church. He was a popular member of Rock Bowls Club. Canon Foster leaves a widow, but no children. His only son. Herbert Knowles Foster, was killed in the first battle of Ypres, while serving with the Ist Gloucesters. The funeral took place on Wednesday at Borough Cemetery, service bring held previously at. St. John's Church. The mourners included Mrs. Foster (widow), Mr. Gerald Curteis, R.N. (H.M.S. Renown) (son-in-law), Mrs. R. M. Curteis. Lady Lieut.- Colonel Curteis. . . .
His wife Susan was the daughter of the Reverend Prebendary Robert Shuttleworth Sutton of Winkenhurst, Hellingly. He had formerly been rector of Rye. She was born in Sussex on 25th June 1860 and died in Hastings on 17th April 1934.
Sadly, another plaque in All Saints Church, Gloucester records the death of their daughter in 1918. She had married Gerald Curteis, the third son of Herbert Curteis, a former MP for Rye, in 1917.
To the dear memory of Katherine Lettice,
beloved wife of Lieutenant Gerald Curteis RN
...... aged 25 years.
She entered into rest 8th November 1918.
Also of Pamela her infant daughter.
Their bodies rest in the Deans' Cemetery.'