Friends
Of
Hastings
Cemetery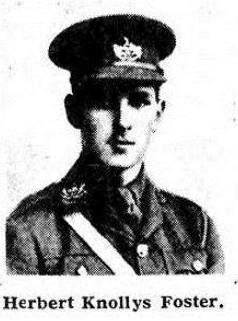 Herbert Knollys Foster was born at All Saints Vicarage, Gloucester on 18th October 1895. He was educated at Glyngarth Preparatory School, Cheltenham and Marlborough College.
He went straight to Sandhurst in 1913 and was commissioned as a 2nd Lieutenant in the Ist Battalion Gloucester Regiment on 8th August 1914.
He went to France on 20th September 1914 and was killed in action at Gheluvelt near Ypres on 29th October 1914.
He was initially posted 'missing in action' but the Cheltenham Graphic of 13th February 1915 reported that 'all hope has now been given up', and a week later it was reported that reliable information as to his death has been received by the family from Captain Chapman who had been taken prisoner but was with him in the battle.
In the absence of a body, it was often difficult to confirm whether men had been killed, were taken prisoner,or lying wounded and unidentified in one of the many French or British hospitals, or even private homes, so reliance frequently had to be placed on eye witness accounts which could be contradictory or difficult to obtain.
Herbert is commemorated on plaques in both of his father's churches, in Gloucester and Groombridge and on the Menin Gate Memorial. He is also remembered on the war memorial in Selsey, West Sussex.