Friends of Hastings Cemetery
EM 01
In Loving memory of


Selena Harriet Gardiner


Fell asleep 20th November 1918


Aged 75 years


'Until the day break'
Selina was living with her parents at 2 West Hill Terrace in the 1881 and 1891 censuses.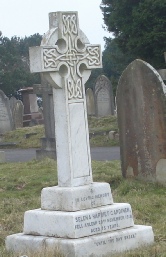 EM M01 – Rev. George Edward Gardiner
The Times, Friday, Aug 5, 1870 MARRIAGES
On the 2nd August, at Weymouth, by the Lord Bishop of Guiana, assisted by the Rev. G. G. Gardiner, M.A., of Paris, father of the bridegroom, the Rev. George Edward Gardiner, M.A., to Bridget, third daughter of William Stancomb, Esq., Farley Castle, Somersetshire.
Children:
George Austin Born abt 1872 Cole Horton, Leicestershire
Buried on 12/10/1912 - Hastings, plot EL L29
Bridget Edith Alberta Born abt 1874 Buxton, Norfolk
Married Harry Brandreth Lavies
In 1871 he was Curate of Coleorton and in 1881 Vicar of Box




LONDON 10 Jul 1897 Probate

GARDINER, the Reverend George Edward, of Albert-House, 7 Denmark-place, Hastings, clerk, died 20 May 1897, Probate London 10 July, to Bridget Downing Bowles Gardiner, widow. Effects £713 2s. 6d.